Sitting here in the office at Loch of the Lowes it's hard to believe that just 2 days ago I was in Slovakia. Over the course of the week my fellow exchange participants and I were taken to some truly stunning locations, where we had the opportunity to experience the very best of the country's wildlife and meet with conservation professionals and experts in their respective fields.
Wildlife Highlights
As a keen birdwatcher some of the wildlife highlights were undoubtedly of the feathered variety. In all I encountered 66 different bird species; some familiar and some I had never seen before. If I had to choose my top five picks would be black stork, honey buzzard, eagle owl, turtle dove and collared flycatcher. My only slight disappointment was that of the ten woodpecker species found in Slovakia the only one we saw was the great spotted. Despite the abundance of suitable habitat the others all proved to be incredibly illusive.
Although we didn't see any large mammals, it was a thrill finding bear and wolf footprints on our walk in the Low Tatras National Park with Robin Rigg and almost coming across a family of wild boar in Zadiel Canyon. Just knowing that we were sharing the same space as these majestic creatures was a real privilege.
Slovakia's traditional hay meadows support and incredible range of wildflowers and invertebrates. With a few exceptions we haven't seen nature rich grasslands like these in the UK for a long time and I hope that Slovakia doesn't lose them in the years to come. The extent and diversity of woodland habitats was equally impressive. I was especially taken with the ancient beech woodland at "Riaba Skala" (Grouse Cliff) in Poloniny National Park and the mixed forest in Zadiel Canyon (Slovensky Kras National Park), in particular the abundant ground flora and fungi.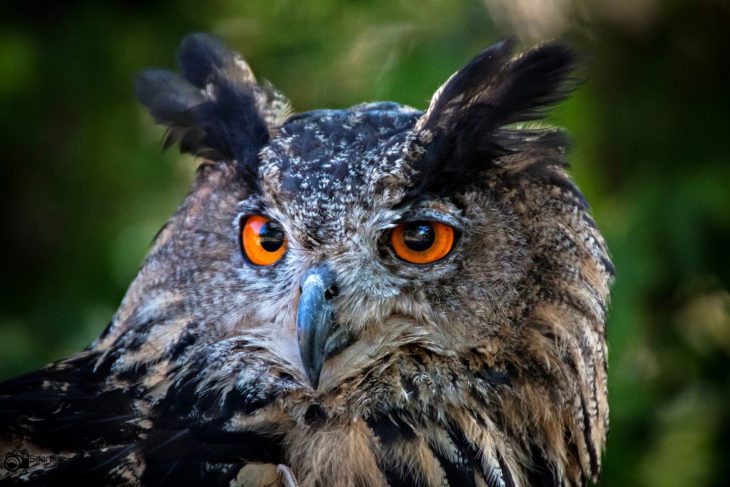 Conservation issues
Whilst it is undoubtedly true that Slovakia has a great wealth of wildlife riches and natural landscapes, the country is not without its environmental problems and challenges. Speaking to our host Miro and the professionals and experts that we met, a number of recurring themes emerged. All were to a greater of lesser extent applicable in Scotland too, so it was interesting to hear that the Slovaks are facing similar conservation issues.
Lack of funding and resources for conservation
Whilst nature conservation in Slovakia is largely state-funded, resources are limited and have been significantly reduced in recent years. For example, Pete Fleischer of the Slovak Forest Research Centre, in the High Tatras National Park, told us that they used to have 40 staff based there, but this has now been reduced over time to 7. As a result they are increasingly reliant upon external support from universities in Slovakia and abroad to provide them with the manpower and resources required to conduct their research.
There are very few non-governmental organisations or charities actively involved in wildlife conservation and none of them own or manage any land.
The separation of nature conservation and forestry
Slovakia has around 40% forest cover, 60% of which is state-owned. Therefore the way in which forests are being managed has a significant impact on nature conservation outcomes. Until 2004, nature conservation and forestry in Slovakia were managed by one government body, however at this time they were divided into two separate bodies – one with responsibility for nature conservation, the other for forestry management. Both Peter Fleischer and Štefan Danko (former director of Pieniny National Park) feel that this change has had a negative impact on the way in which forests have been managed in Slovakia over the last dozen or so years. The main problem from their point of view has been poor communication between the two bodies which has resulted in the formulation of contradictory policies and procedures.
It is worth noting that this scenario is not too dissimilar to what the Scottish Government were proposing to do with Forest Commission Scotland.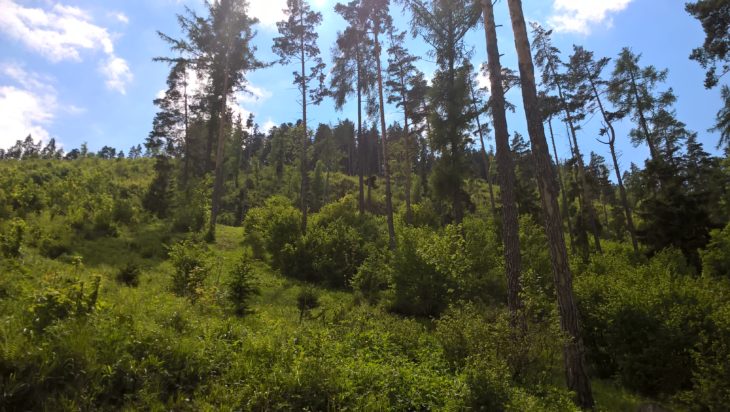 Changes to agriculture
Slovakia has a tradition of small-scale, low intensity agriculture. This was particularly evident in the east of the country where we spent the first couple of days of our visit. Many people had smallholdings immediately beside their homes, where they were growing fruit, vegetables and cereal crops to meet their own needs. We also saw a few larger farms which were being run cooperatively by the community. The wildlife benefits of this kind of approach were clearly evident. Fields were constantly abuzz with the sound of bush and field crickets and there were plenty of butterflies and other flying insects, providing food for insect eating birds such as swallows, house martins and swifts which we saw in large numbers. Conversely, further west, where we spent the rest of the week, seemed to have more large farms, with expansive fields containing monocultures of wheat, maize and oil seed rape. This was more akin to modern farming in the UK and there was a notable lack of insects and insectivorous birdlife in these areas.
It would seem that pastoral farming is also undergoing changes which are having a negative impact on wildlife. The incredible hay meadows that I described earlier are dependent upon grazing by flocks of sheep and herds of cows that in the past were shepherded around around the countryside by livestock farmers. This traditional method of farming is experiencing a rapid period of decline, with many stockholders now choosing to keep their animals in enclosures or barns beside their farms. The removal of grazing pressure in the hay meadows is leading to scrub and woodland encroachment, threatening the long-term survival of this precious habitat. Whilst cutting is being used as an alternative in some areas it is far more time consuming and labour intensive so doesn't represent a sustainable solution to the problem.
In the UK we have already lost 98% of our wildflower meadows; hopefully Slovakia can do something to arrest their decline before the situation becomes anywhere near this desperate.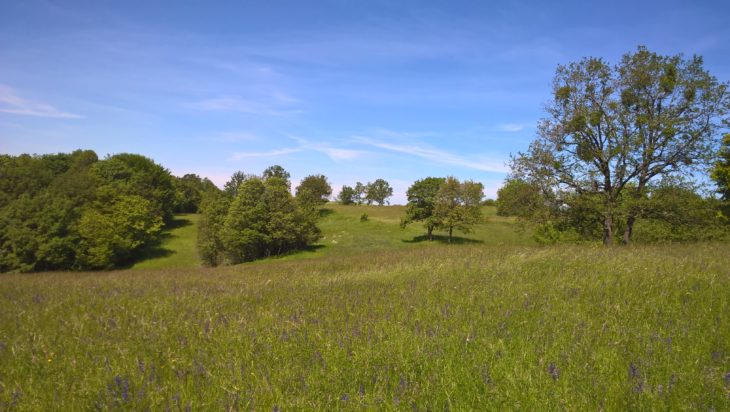 Development pressure
Whilst core areas of Slovakia's National Parks are fully protected against development, there are pressures to allow tourism and recreation developments outside of these areas and within so called "buffer zones". Creating revenue generating opportunities within the parks isn't necessarily a bad thing per se, provided that they are appropriately sited, their environmental impact properly assessed and the income generated re-invested in the park. However this has not always been the case.
For example, in Pieniny National Park a hydro-electric dam was constructed on the River Dunajec. Aside from generating renewable energy the other main reason for the dam's creation was to regulate water flow on the river. Previously the river had a highly variable flow rate depending on weather conditions and the time of year. This made it difficult for the wooden raft operators to run trips consistently throughout the peak season.
The dam has provided a boost to tourism, acting as a visitor attraction in its own right and improved business for the raft operators, however it has had a negative environmental impact on the river. The dam has significantly altered the river's hydrology. Reduced flow rates have led to increased vegetative growth on the river bed downstream of the dam, choking the aquatic ecosystem which used to be regularly scoured out by rocks carried along in the current. It has also altered the water temperature – the river no longer freezes in winter, meaning there is no dieback of vegetation even during the coldest months. Migratory fish species which were formerly abundant on the river are no longer seen as the dam has created an immovable obstacle (no consideration was given to creating a fish ladder such as the one at Pitlochry).
Intervention v Non-intervention
We had an interesting discussion with Peter Fleischer about if and when it is appropriate to intervene in natural processes. As I mentioned in my blog on Day 3, 30% of the National State Forest in the High Tatras National Park is subject to no management measures whatsoever. This approach does not appear to be uncommon in Slovakia, whereas in Scotland and the rest of the UK it is virtually unheard of. I think you can certainly make an argument that we have a tendency to over-manage our natural environment, however I'm not sure whether having a blanket non-intervention approach is necessarily a good idea either.
Slovakia's native spruce forests are currently in the midst of a spruce bark beetle epidemic, which is killing off huge numbers of trees. Whilst measures have been put in place in areas of managed forest to combat this, including trialing the use of pheremone traps and other chemical deterrents, in the unmanaged areas the trees are simply being left to die. A major forest fire in 2004, which came on the back of the catastrophic wind storm event destroyed a large number of trees in a managed part of the forest. If this had happened in an unmanaged area then the fire service wouldn't have been able to put the fire out and would have just had to hope that the fire burnt itself out and didn't spread to other parts of the forest.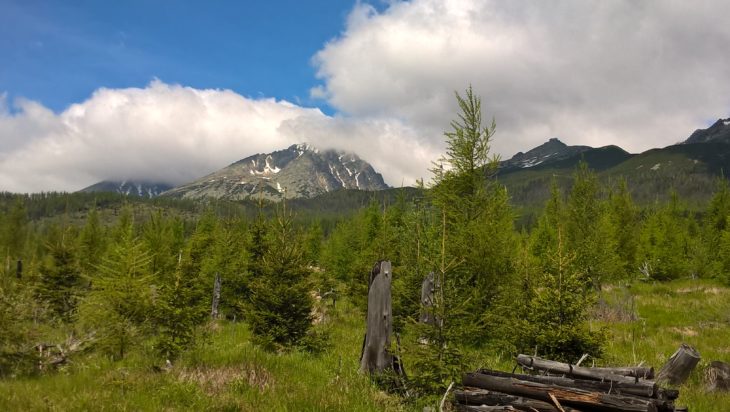 Acknowledgements
I would like to extend my sincere thanks Miro Knežo, our host for the duration of our time in Slovakia who fed us, transported us and shared his knowledge and enthusiasm for all things Slovak with us. Thanks to Miro's son Michal, who led us on our walk in Poloniny National Park ensured that we all made it out of "Suchá Bela" alive!
I would also like to thank Robin Rigg, Peter Fleischer, Laszlo Gordon and Štefan Danko for their expert guidance and information, for spending time with us, answering our many and varied questions.
Thanks also to Libby Urquhart at Arch Network for organising the Nature Exchange and to Erasmus+ for providing the funding for the programme.
And finally, a big thank you to my fellow participants, Ian Francis (RSPB), Natalie Stevenson (Loch Lomond & Trossachs National Park), Matthew Dale (Loch Lomond & Trossachs National Park), Hayley Wiswell (Cairngorms National Park), Christina Ross (Scottish Natural Heritage), Duncan Stone (Scottish Natural Heritage) and Rachel Horsburgh (Scottish Natural Heritage), for being great company throughout the week, sharing experiences and ideas.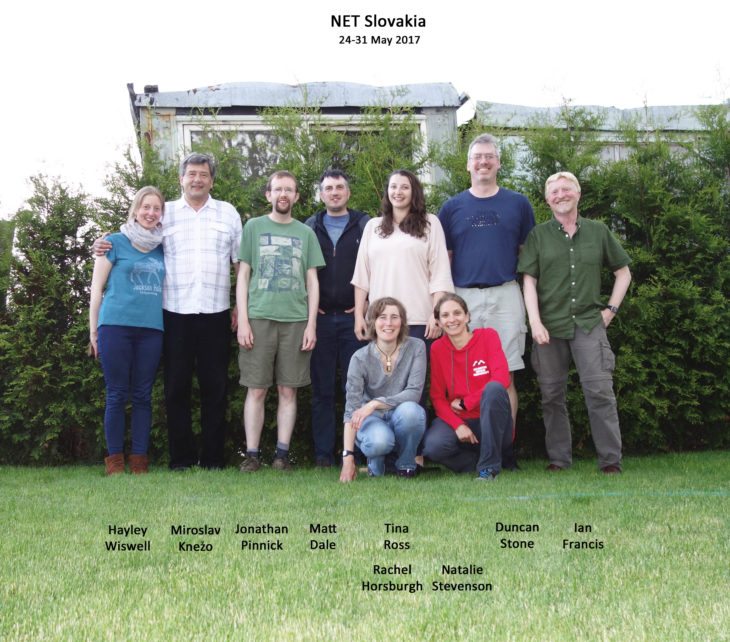 Help protect Scotland's wildlife
Our work to save Scotland's wildlife is made possible thanks to the generosity of our members and supporters.
Join today from just £3 a month to help protect the species you love.
---
Preface
Sitting here in the office at Loch of the Lowes it's hard to believe that just 2 days ago I was in Slovakia. Over the course of the week my …