Sightings summary – May 2011
The month started very early with our Dawn Chorus taking place at 5.30am on Sunday 1st May and those of us to managed to scrape ourselves out of bed were treated to glorious weather and a wide range of singing birds including 4 yellowhammer, 6 blackcap, 4 common whitethroat, a sedge warbler and 3 linnets.
Following the event when we made our way back to the Visitor Centre a garden warbler was heard singing in the trees directly outside the front door, yet another summer migrant had made its way back to Montrose.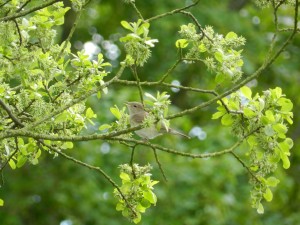 As I mentioned in the post summarising April's sightings if we are very lucky at this time of year, waders making their way to the breeding grounds in the Arctic may stop off on the Basin to feed and rest before continuing on their journey.   These birds often only stop in for a very short time over a period of a few weeks in the spring and again on their return leg in the autumn and are referred to as passage migrants.
We have been very fortunate this month and several passage species have been recorded and are mentioned in the wildfowl and waders section below.  I hope to write a piece looking at passage migrants which I will upload here soon.
The first young birds have also started emerging this month and a juvenile robin was in the car park on 12th.  Mallard ducklings were seen feeding in the Salt Pans from 19th with a peak count of 17 on 29th.  Young house sparrows and starlings were coming to the feeders from 30th and 2 juvenile blackcaps were in seen in the car park on 31st.
Wildfowl and waders
Six scaup were recorded on 1st, along with a pair of gadwall and a late pintail.  A shoveler was seen roosting on River South Esk on 14th and the following day during the Wetland Bird Survey (WeBS) 181 mute swan, 632 pink-footed geese, 180 shelduck, 1586 eider, 21 goosanders and 35 red-breasted mergansers were seen.  Three whooper swans were on the South Esk near the Shelduck Hide on 18th, as were 4 wigeon and pair of tufted duck were feeding in the Salt Pans on 22nd and 29th.
Three common sandpiper were noted at Bridge of Dun on 3rd and 1 whimbrel and a large flock of around 400 dunlin and 300 knot were seen feeding mid-Basin on 10th.  Small flocks of black-tailed godwits have been moving through and have been recorded near Mill Burn on several occasions with a peak of 30 being seen on 14th, as was a single snipe.  The other godwit species, bar-tailed godwits have also been passing through with 9 being seen on 3rd and 22 recorded during WeBS on 15th.  Also recorded during WeBS were eight whimbrel, 18 turnstone and 1 grey plover.
One hundred and fifty golden plover were seen in front of the Wigeon Hide on 29th and a flock of 19 ringed plover and 200 dunlin was near Miss Erskine's Bank on 30th.
Birds of prey
A sparrowhawk was seen hunting near the feeders at the Visitor Centre on 1st and ospreys have been seen throughout the month, as have buzzards with 3 being seen over Mains of Dun on 3rd.  Hunting barn owls were noted on 3rd and 14th and two calling tawny owls were at Old Montrose Pier also on 14th.  A marsh harrier was recorded on the reserve during May.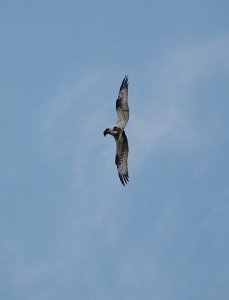 Passerines
As mentioned above, a garden warbler was heard singing in trees beside the Visitor Centre on 1st and throughout the month several pairs of swallow have been busy making nests in the eaves of the main building.  We now have a camera watching one of the nests and visitors to the Centre can view developments on a TV in the observation gallery.
Monitoring of our artificial sand martin bank has indicated that over seventy holes are being used this year which is well up on the 20 pairs we had last year.  House martins are much less common on the reserve than their sandy cousins however, 10 were flying over the car park on 3rd.
A male stonechat was spotted by a visiting American birder who had stopped in during his holiday to Scotland, and a yellowhammer and common whitethroat were in the Salt Pans on 5th as were 11 starlings on 10th.
On Mains of Dun other passerine species recorded included linnet and grasshopper warbler and the feeders have been visited by blackbirds, great-spotted woodpeckers, goldfinches, greenfinches, tree and house sparrows, amongst other common garden species.  Both willow and sedge warblers are both heard singing daily from the Visitor Centre.                                                                                                                                                                 
Others
An Arctic tern and 26 sandwich tern were fishing on the Basin on 2nd and 8th respectively.  The first swift of 2011 was seen over the Salt Pans on 5th.
Thirty-five cormorants were observed on 10th, a coot was at Mopps Pool during WeBS, 9 herons were logged on 17th and four grey partridge were on Seacrook on 18th.
The highest count of common terns seen on the reserve was 120 on the nesting raft on 25th.
Mammals
A grey seal was seen basking at low tide on 1st along with nine common seals, which are also known as harbour seals.
Two roe deer, including a barking male, were recorded in Slunks Reedbed on 14th and 13 brown hare were seen early on 18th feeding on Seacrook, Mains of Dun.
Longer evenings and warming temperatures has led to an increase in sightings of bats on the reserve and on 20th several pipistrelle, the commonest bat species in Britain, were detecting flying round the trees beside the Salt Pans.
Butterflies
Six large whites were seen on the 1st in the grounds of the Visitor Centre, along with 1 small tortoiseshell.  The grounds also had 2 orange tips and 2 small whites on 4th and a green-veined white was noted on 8th.  A red admiral was recorded in the Visitor Centre car park on 9th, bringing the number of butterflies recorded on the reserve this month to six.
Adam – Montrose Basin Ranger
Help protect Scotland's wildlife
Our work to save Scotland's wildlife is made possible thanks to the generosity of our members and supporters.
Join today from just £3 a month to help protect the species you love.
---
Preface
The month started very early with our Dawn Chorus taking place at 5.30am on Sunday 1st May and those of us to managed to scrape ourselves out of bed were …