No osprey breeding season is ever the same but for the Scottish Wildlife Trust's Loch of the Lowes wildlife reserve near Dunkeld the 2023 season started and finished sooner than usual.
Female NC0 and male LM12 touched down exactly 6 hours apart on 17 March making it the earliest arrival of osprey at this nesting site.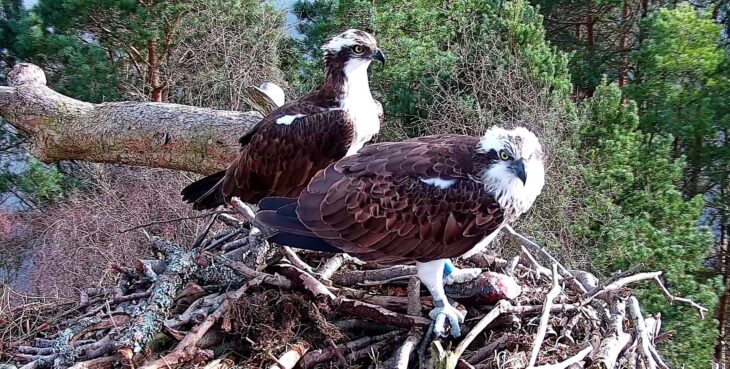 The current pair have bred together for 4 years and quickly worked together rebuilding their nest and laying three eggs over the Easter weekend – much to the delight of online webcam viewers.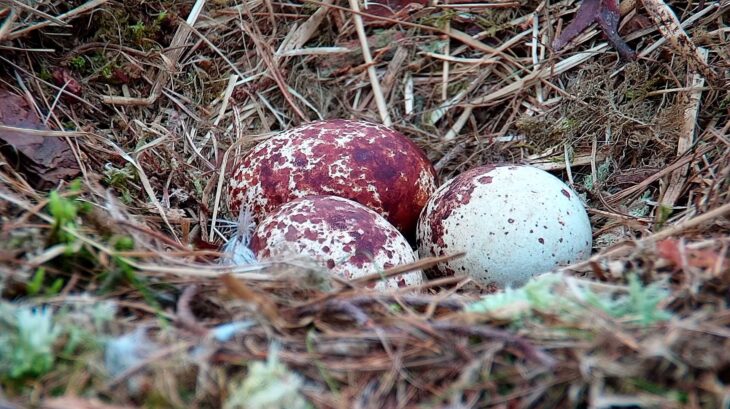 With osprey numbers recovering across the country the loch side nest attracted attention from intruding osprey vying for its prime fishing location. Both adults firmly defended their territory, with male LM12 thought to receive an injury during one such altercation, impacting his ability to hunt leading up to and during the hatching of the two chicks: female PF4 on 13 May and male PF5 on 16 May. Thankfully, LM12 recovered and managed to bring fish into the nest again, although low river levels for much of the summer resulted in fluctuating hunting success leading to a lot of aggression on the nest between the juveniles.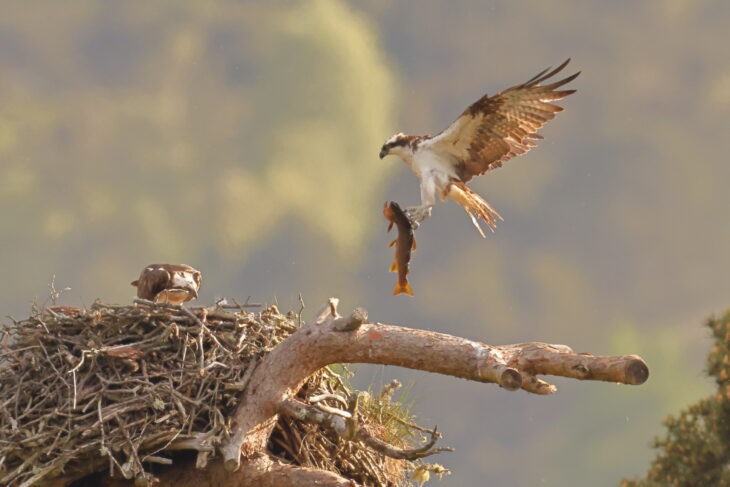 Once the chicks fledge in July, both parents will hunt to provide meals for their youngsters' ever-increasing need for food, with the female typically leaving in early to mid-August to begin building up strength for her own migration. The youngsters followed by the male generally leave at the end of the month. However, this season female NC0 left three days after the second chick fledged and has not been sighted since 15 July. It is thought that with fish being in short supply she began hunting for herself earlier than usual to build up her own strength for migration. After a period of intense competition on the nest the second chick PF5 is thought to have also dispersed and was last seen in the area on 28 July.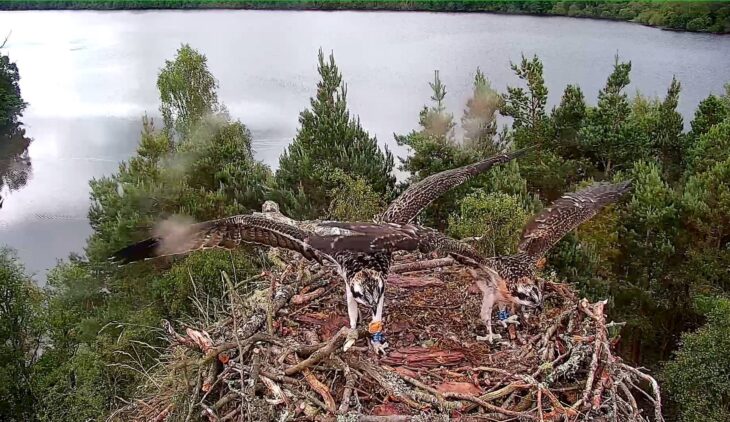 Male LM12 continued to bring sporadic fish deliveries to the nest until early August, which encouraged the remaining juvenile PF4 to practise her own fishing skills, successfully managing to catch a few very small pike from the loch. She was last sighted on Monday 7 August and is assumed to now be exploring the wider area. This will help her create a memory map of her natal ground which she will use when she returns as an adult. She will then begin her journey south, learning to feed for herself on the way.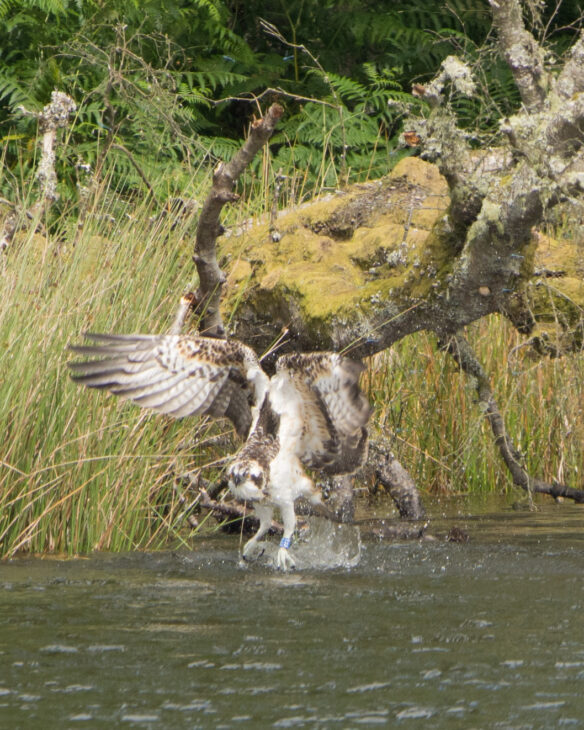 LM12 has not been spotted since Sunday 6 August and it is assumed he has also departed the area to begin his journey south.
Perthshire Ranger Sara Rasmussen has followed every twist and turn of this rollercoaster osprey breeding season. She said: "It has been a very dramatic season starting with the bird's early arrival on the same day, LM12's injury, a very cold and dry spring affecting availability of fish and hunting success, the early dispersal of the female and second chick, and now the early departure of the remaining members of the family.
"It is hard to tell at this early stage if some of the challenges we have observed this season are directly caused by climate change, but as a top predator and migratory species, ospreys are sure to be impacted by rapidly changing weather patterns. It will be of interest to see how things develop over the coming seasons. 2023 certainly has been a year to remember!
"Thank you to everyone who followed their breeding journey on the webcam, blogs, social media and by visiting the reserve. A huge thank to all our volunteers and Species Protection Team, who kept the family disturbance free throughout the season."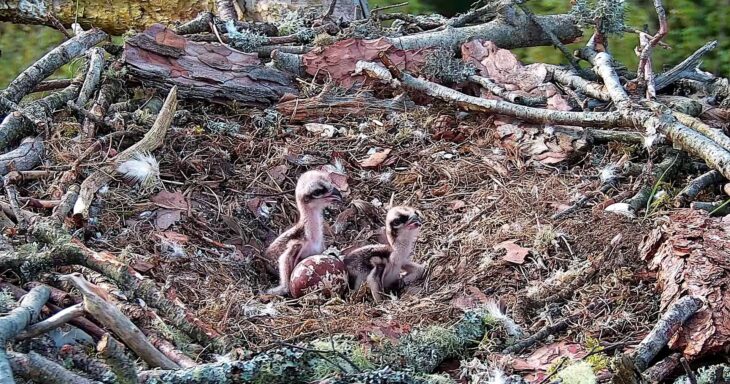 Ospreys were extinct in Britain for much of the 20th Century. They began to recover in the 1960s and an estimated 300 pairs of ospreys now breed in the UK each summer. Most of these birds migrate to West Africa but some winter in Spain and Portugal.
The recovery of ospreys is thanks to the efforts of conservation charities including the Scottish Wildlife Trust. The Species Protection Team at Loch of the Lowes Wildlife Reserve is supported by players of People's Postcode Lottery, with funds awarded by Postcode Planet Trust.
Laura Chow, Head of Charities at People's Postcode Lottery said: "It's been fascinating to follow the incredible journey of the ospreys at Loch of the Lowes this season, and wonderful to know that our players are helping to protect their futures and the diversity of Scotland's wildlife by supporting such important projects."
Loch of the Lowes Visitor Centre is currently open seven days a week from 10:30am to 5pm.
Find out more about Loch of Lowes Wildlife Reserve here, on Facebook or Twitter and with their blog.