This year, the annual influx of pink-footed geese at the Scottish Wildlife Trust's Montrose Basin Wildlife Reserve and Visitor Centre in Angus is earlier than usual.
The birds, who have migrated from Iceland, were first sighted on Tuesday 5 September when a skein of 25 flew over the Visitor Centre that overlooks Montrose Basin – an enclosed estuary of the river South Esk. Reports of 'pinkies' in the Angus area were first recorded from Saturday 2 September, usually, the geese are not seen in the Angus area until mid-September. Larger numbers started arriving from Saturday 9 September with 1,500 birds counted on Wednesday 13 September. Their numbers are approximately 25,000 as of 02 October.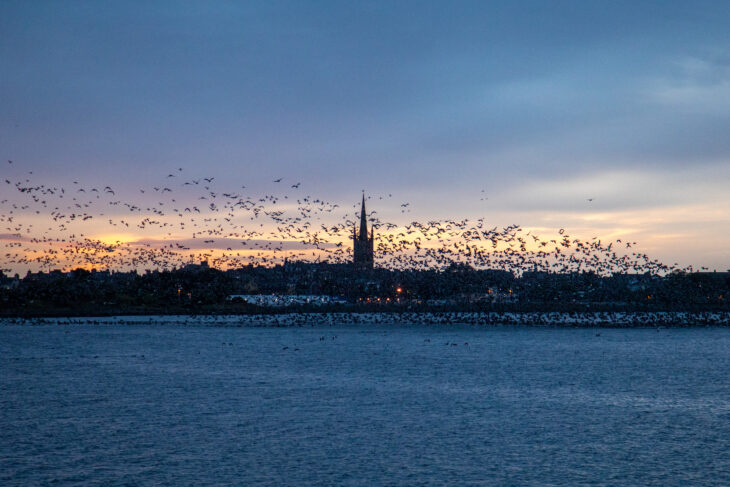 Joanna Peaker, Scottish Wildlife Trust Visitor Centre Site Manager, is delighted to see their numbers increasing. She said: "It is surprising that the geese have arrived early this year at the Basin. We often don't see any until the middle of September. Their early arrival is a delightful surprise; however, we don't know if they will move on earlier and how they will fare from this early migration from their summer breeding grounds.
"The sonorous sound of up to 85,000 geese landing on the mudflats at sunset is a stunning spectacle. I never tire of hearing the geese every year, especially as their sunset roosting becomes louder as their numbers swell. Usually, mid-October is the best time of year to see the geese at their peak numbers when they return to the Basin every evening to roost. This year it might be earlier!"
Episode two of the latest BBC Wildlife three-part series: Scotland – The New Wild, described Montrose Basin's pink-footed geese spectacle as: "The signature sound of a Lowland autumn." The nature documentary showcases Scotland's wildlife, habitats and scenery and is narrated by actor, Thoren Ferguson. It captures the large number of pink-footed geese who have migrated, in family groups, from Iceland, to Montrose where nearly 20% of the world's population are all in the same place before some move to other parts of Scotland and England.
During October, the Visitor Centre have a range of public events and special opening times to encourage as many people as possible to enjoy Montrose's mighty migration. The full list is available on the Scottish Wildlife Trust's website, events section, here.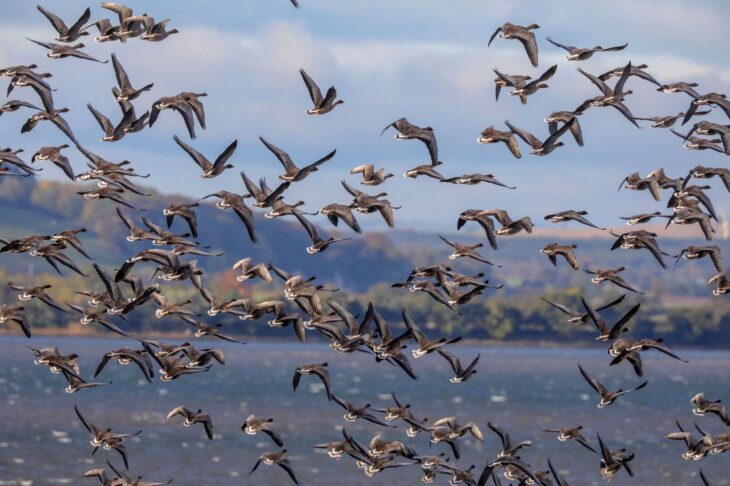 Pink-footed geese events at Montrose Basin Wildlife Reserve and Visitor Centre

Pink Sunset, Sunday 08, and Sunday 22 October, 5:30pm – 8:00pm Join a ranger to watch the sunset and see the pink-footed geese return to roost on the Basin.
After-hours with the geese, Friday 13, Saturday 14, and Sunday 15 October, 5:00pm – 7:00pm The visitor centre will be open until 7pm to learn more about pink-footed geese including where and when you might see them best.
Viking Optical Optics Fair, Saturday 14, and Sunday 15 October, 10:30am – 4:00pm Try various wildlife watching optics.
Wild Geese and other tales, Sunday 22 October, 5:00pm – 6:00pm Join local storyteller and naturalist Cara Roberts sharing tales of Wild Geese, both mythic and real.
These events are supported by players of People's Postcode Lottery, with funds awarded by Postcode Planet Trust. Laura Chow, Head of Charities at People's Postcode Lottery said: "This is nature's grand symphony in action, the Montrose migration is a reminder of the importance of wildlife preservation. It's great that our players are supporting these efforts through the Scottish Wildlife Trust."
Montrose Basin Wildlife Reserve and Visitor Centre is currently open seven days a week from 10:30am to 5pm, with special opening hours on Friday 13, Saturday 14, and Sunday 15 October, until 7:00pm.
Find out more about Montrose Basin Wildlife Reserve and Visitor Centre here, on Facebook or Twitter.
Learn more about pink-footed geese here.