Water rails at Montrose Basin Visitor Centre
Water rail (Rallus aquaticus)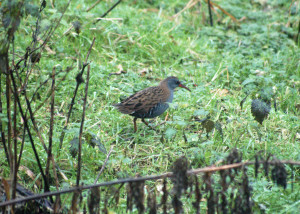 Water rails are said to be one of the most elusive birds in Scotland, but with around 1,250-1,400 breeding pairs in lowland Scotland, you would think we would encounter them more often.  Keen bird watchers are often aware of their presence by the distinctive sound that they make, a loud piglet like squeal. They are about half the size of a Moorhen and a little slimmer.  They live in wetland habitats up to 200 metres above sea level.  Our salt pans are an excellent example of good habitat for the species to breed and winter in, as they never freeze over.  The salt pans are surrounded by reed beds, providing shelter and security.  These are periodically flooded by the tidal estuary, providing a fresh supply of food stuffs.  They mainly eat small fish, snails and insects.
We have had a number of good sightings this week of the Water rail.  It has been venturing out of the Salt pans and up towards the centre.  A regular visitor to the centre managed to take an excellent photo of the Water rail.  It had wandered about 10 meters away from the water to feed in the bushes by the bird feeders.  The recent increase in sightings from the Visitor Centre window is in part due to the vegetation dying back and because there are simply more individuals around after the summer months.  We are very excited to be able to show such an elusive species to the public.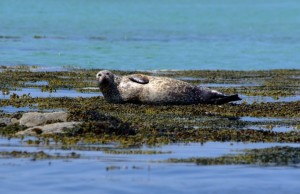 Other sightings this week include 350 Knot, 110 Golden Plover, 28 Scaup, 16 Common Seal, 7 Grey seals, the Kingfisher and of course our resident Stoat.
The centre is open 10.30am – 4pm, Friday-Sunday.  So you can come along and experience all these lovely species for yourself.
Emma Castle-Smith – Visitor Centre Assistant Manager
Help protect Scotland's wildlife
Our work to save Scotland's wildlife is made possible thanks to the generosity of our members and supporters.
Join today from just £3 a month to help protect the species you love.
---
Preface
Water rail (Rallus aquaticus) Water rails are said to be one of the most elusive birds in Scotland, but with around 1,250-1,400 breeding pairs in lowland Scotland, you would think …