Why have we not seen as many kingfishers this winter?
Regular visitors to Montrose basin and its visitor centre will be aware that winter is usually an incredible time for spotting kingfishers on the reserve. The famous 'kingfisher perch' in front of the centre's windows has, in the past, been a reliable part of a resident kingfisher's daily routine. It wasn't unusual for visitors to Montrose Basin to be guarantees an amazing view of our kingfisher, if visiting at the right time of year.
The winter of 2021/22 has strayed a bit from the norm for many reasons, most of which I think we're all too familiar with. But at the Montrose Basin visitor centre, we've also been experiencing our first ever 'kingfisherless' winter in over 5 years! The last written down sighting of a kingfisher from the centre was on January 5th, but this was during lockdown so it may have appeared there more recently.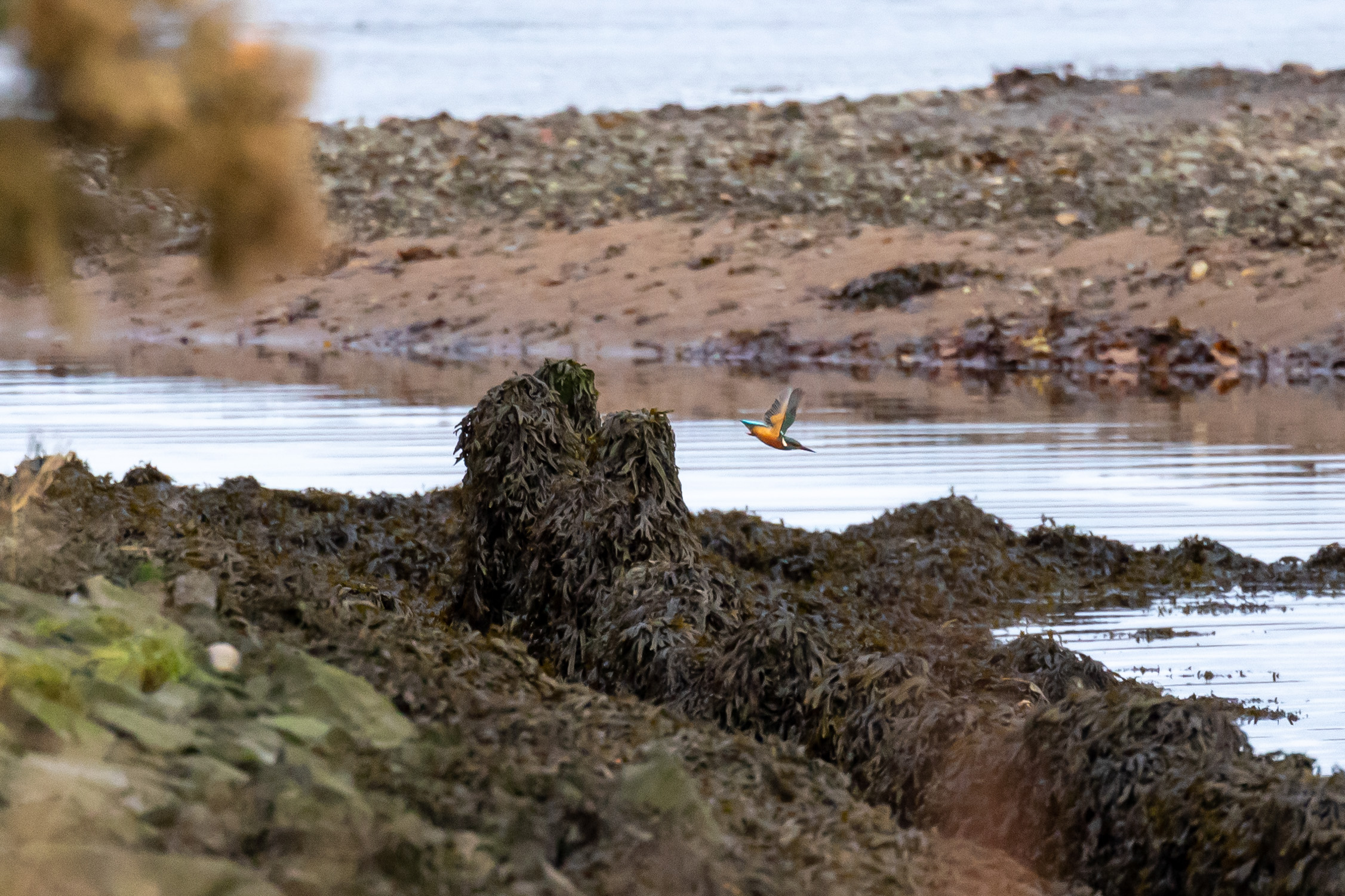 This isn't to say that kingfishers have disappeared from the reserve entirely. We've had reports of kingfishers from the Lurgies, Mains of Dun, and Tayock. So why is it that we haven't seen any on this side of the reserve? We don't have a definitive answer, but here are some of our theories.
1. Unclaimed territory
Outside of breeding season, kingfishers are usually very territorial about their feeding areas. Typically during a normal winter, we would see (we can only presume) one individual kingfisher using the various perches in front of the Bank of Scotland hide and visitor centre. Very occasionally, we would see 2 kingfishers at once, but this was either because one was a recent fledgling following its parent, or because one was an intruder that was quickly chased off by territory holder.
Perhaps the kingfisher we had the previous winter didn't make it through breeding season, and a new kingfisher hasn't claimed the now available territory. It could even be that kingfishers didn't do so well this past year (that cold spell in March was particularly harsh), so there's a lower population than usual, and less need for as many feeding areas.
2. New unfamiliar landmark
If you've visited the centre in the past year, you'll have noticed that we no longer have a sand martin wall, but two brand new wooden sand martin nesting structures. The reserve team were working on this new project in the early summer. Potentially, new landmarks could be off-putting to a vulnerable little kingfisher.
3. New unfamiliar…bird?!
For the past two winters, a great white egret has been a frequent visitor to the ponds in front of the visitor centre. You can imagine a small kingfisher finding a very large white bird a bit intimidating, especially with it feeding in the same ponds as we've seen kingfishers using in the past.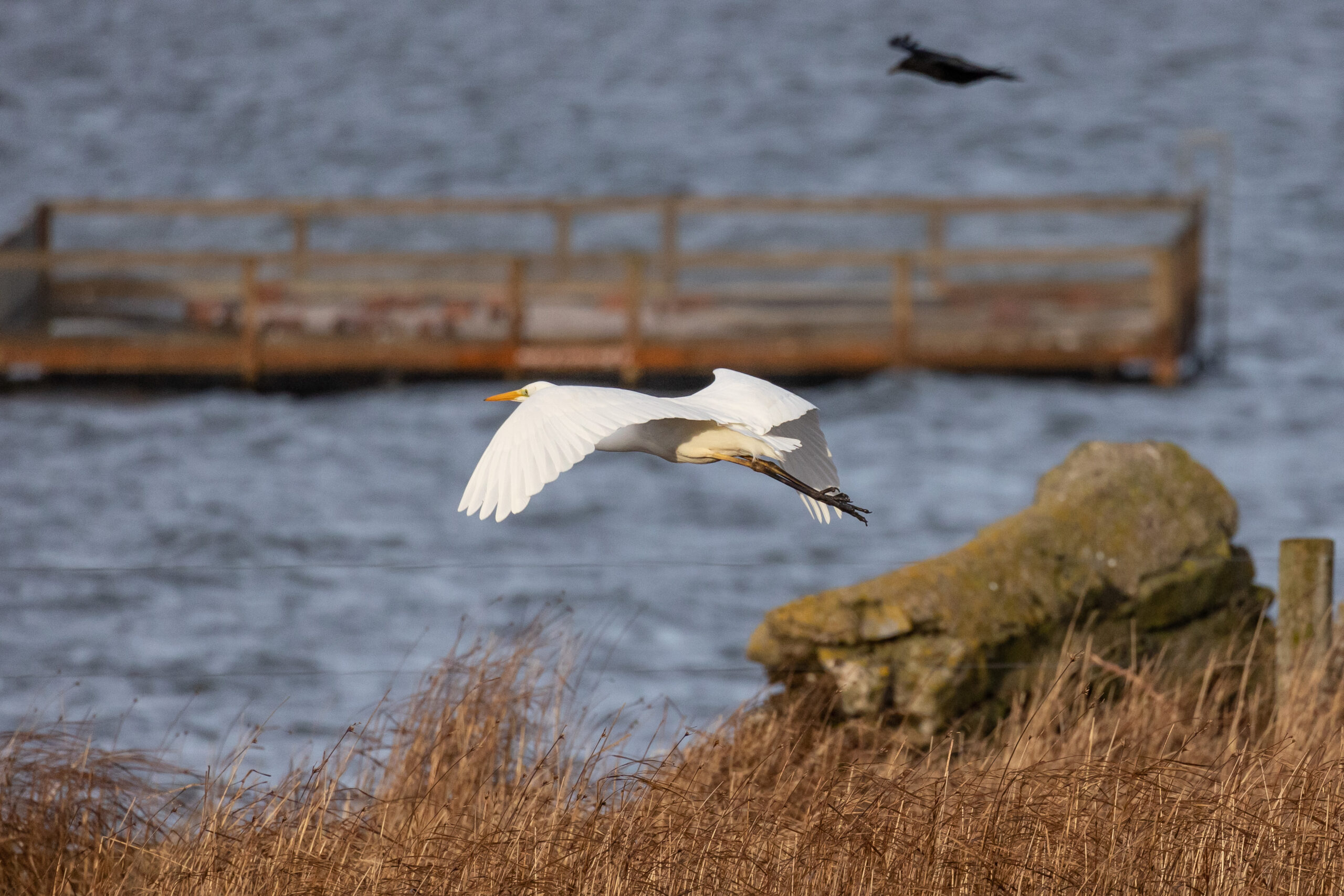 4. Reed growth
The reeds in front of the centre are currently taller than usual due to many reasons. The habitat is gradually becoming marshier because of rising water levels, and the pandemic (as you can imagine) has affected work patterns and volunteer availability all across the Trust. Perhaps taller reeds encroaching on the pools that our kingfishers usually fish in has made the habitat less desirable than before. This seems unlikely though, as the great white egret and little egrets are frequently seen fishing very successfully in these very same ponds.
Of course, these are only theories and these sorts of things are usually down to a whole combination of factors. There's still a little while to go before kingfisher breeding season begins and our chance of seeing one gets even lower. We'll just have to keep our fingers crossed!
Despite being sadly kingfisherless, this winter has still been amazing for wildlife watching from the centre. A great white egret has been overwintering for the second year in a row and can frequently be seen fishing in the salt pans. It's been a particularly good year for wigeon, and there's always a huge variety of ducks and waders out on the mudflats at low tide. The mild weather has also made for some especially beautiful still days with pastel colours reflected all across the Basin.
We also have some exciting news: from February 14th, the centre will return to being open 7 days a week, 10:30am-5pm, for the first time since early 2020! We're looking forward to seeing many of you later this year!
– Joanna Peaker, Visitor Centre Assistant Manager
Help protect Scotland's wildlife
Our work to save Scotland's wildlife is made possible thanks to the generosity of our members and supporters.
Join today from just £3 a month to help protect the species you love.
---
Preface
Regular visitors to Montrose basin and its visitor centre will be aware that winter is usually an incredible time for spotting kingfishers on the reserve. The famous 'kingfisher perch' in …