This Year's Pink-Footed Geese In Review
Autumn at Montrose Basin is always an exciting thing to experience. Wading birds return to the reserve after breeding season, kingfisher sightings increase, and by the end of September, the Basin becomes home to tens of thousands of pink-footed geese.
Pink-footed geese migrate from Iceland and Greenland to Scotland in early to mid September, and by the middle of October, Montrose Basin can hold over 10% of the entire Icelandic population at one time! They roost on the reserve every night, so the sound of Autumn in Montrose is predominantly the calls of the pink-footed geese. Our highest ever goose count was around 90,000 in 2016, and we've been nearing those numbers most years since.
All of our goose watching events were fully booked this year, and we've noticed more people than ever traveling to the Basin to see the spectacle for themselves!
2021's Pink-footed Goose Figures
This year, the pink-footed geese arrived a little later than usual. We usually expect them by the middle of September, but they had us waiting this time around… It was September 19th when we saw our first pinkies on the Basin. A couple of regular members spotted two on the mud flats that morning from the visitor centre, and after I jokingly asked if they could conjure up a few more, a skein of around 100 flew in! It was great to watch 'migration in action'.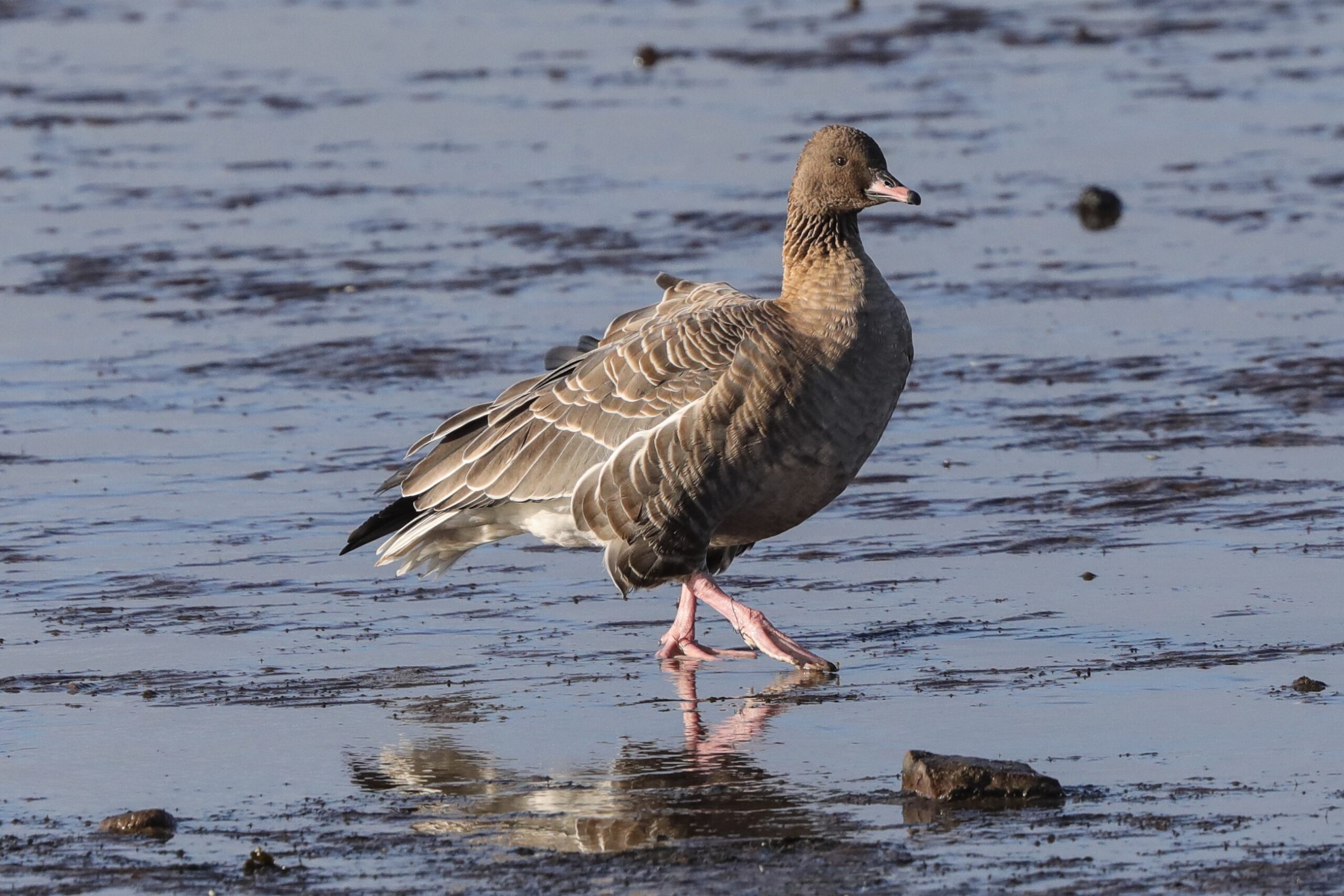 Just 4 days later, we had over these numbers increased 100 fold, and 5 days later, on September 24th, we already had over 30,000. The numbers built up fast this year – strong winds were preventing the geese from migrating for most of September, so when the wind direction changed just enough, the floodgates opened! People all across Scotland were hearing and seeing their first skeins on pretty much the same day.
Our highest count this year was 72,350 pink-footed geese on October 16th. Our latest count was yesterday morning for the Icelandic Goose Census, which yielded just over 30,000. This drop in numbers is typical: usually the pink-footed geese start to move further south, eventually ending up at The Wash in Norfolk, as the weather gets colder and the day length gets shorter in Scotland. But around 10,000 usually stick around over the winter months, before they migrate back to Iceland for the Spring.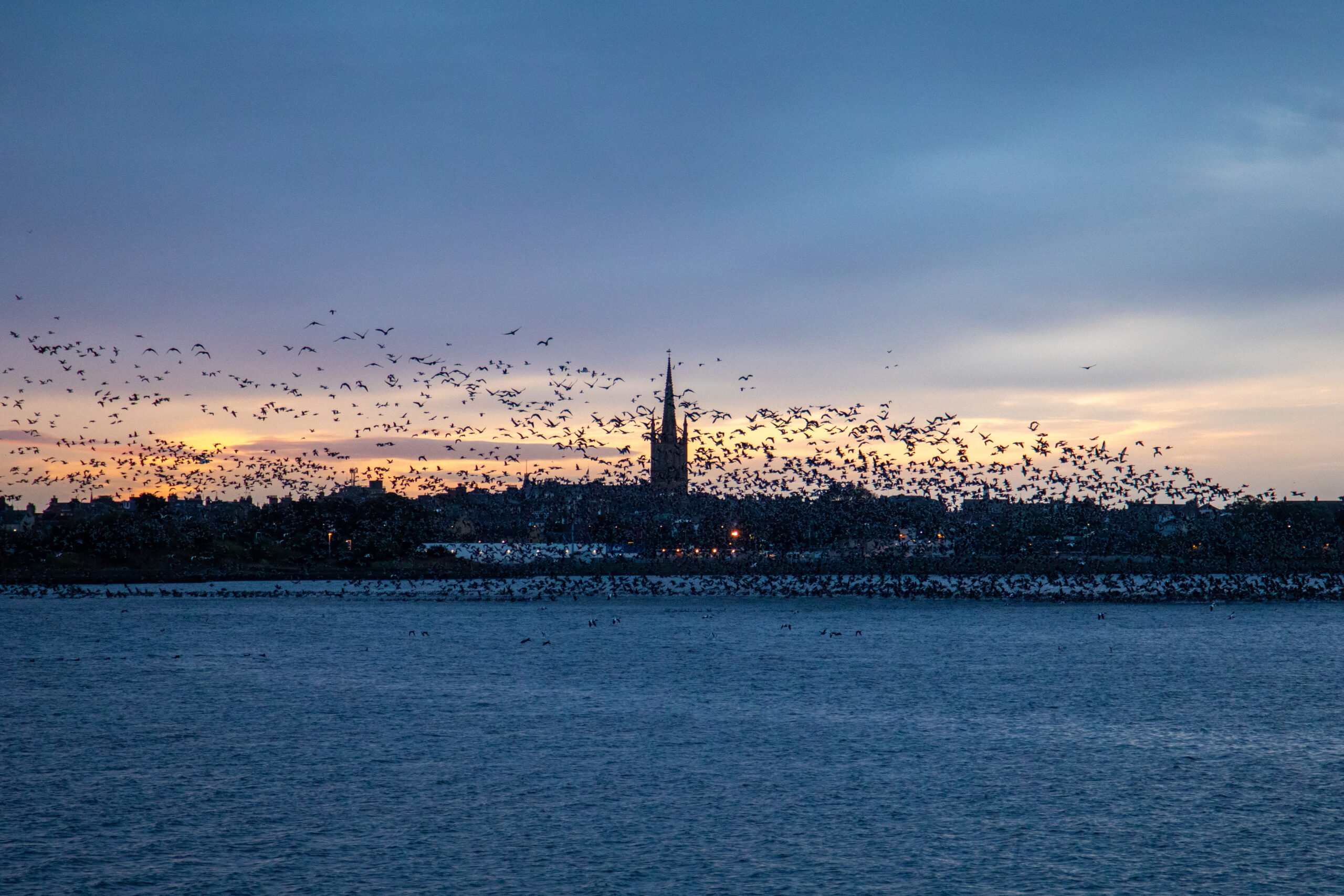 Some Rarities Amongst The Pinkies
Keen-eyed goose counters and photographers at Montrose Basin have been able to spot some rarities in amongst the pink-footed geese this year. During our first ever Online Wild Goose Watch (which was a great success! you can watch the recording of it here), the camera crew managed to spot a single leucistic pink-footed goose (lacking pigment).
There have also been reports of a leucistic barnacle goose. Pale white geese are always worth getting a closer look at, as it might be a rare snow goose. So these leucistic geese were causing a lot of confusion!
On October 19th, a goose counter found what we first thought was a snow goose hanging out with the 72,000 pinkies. But this white goose was later identified as a Ross's Goose due to it being much smaller. This goose was probably an escapee, as they typically breed in North America.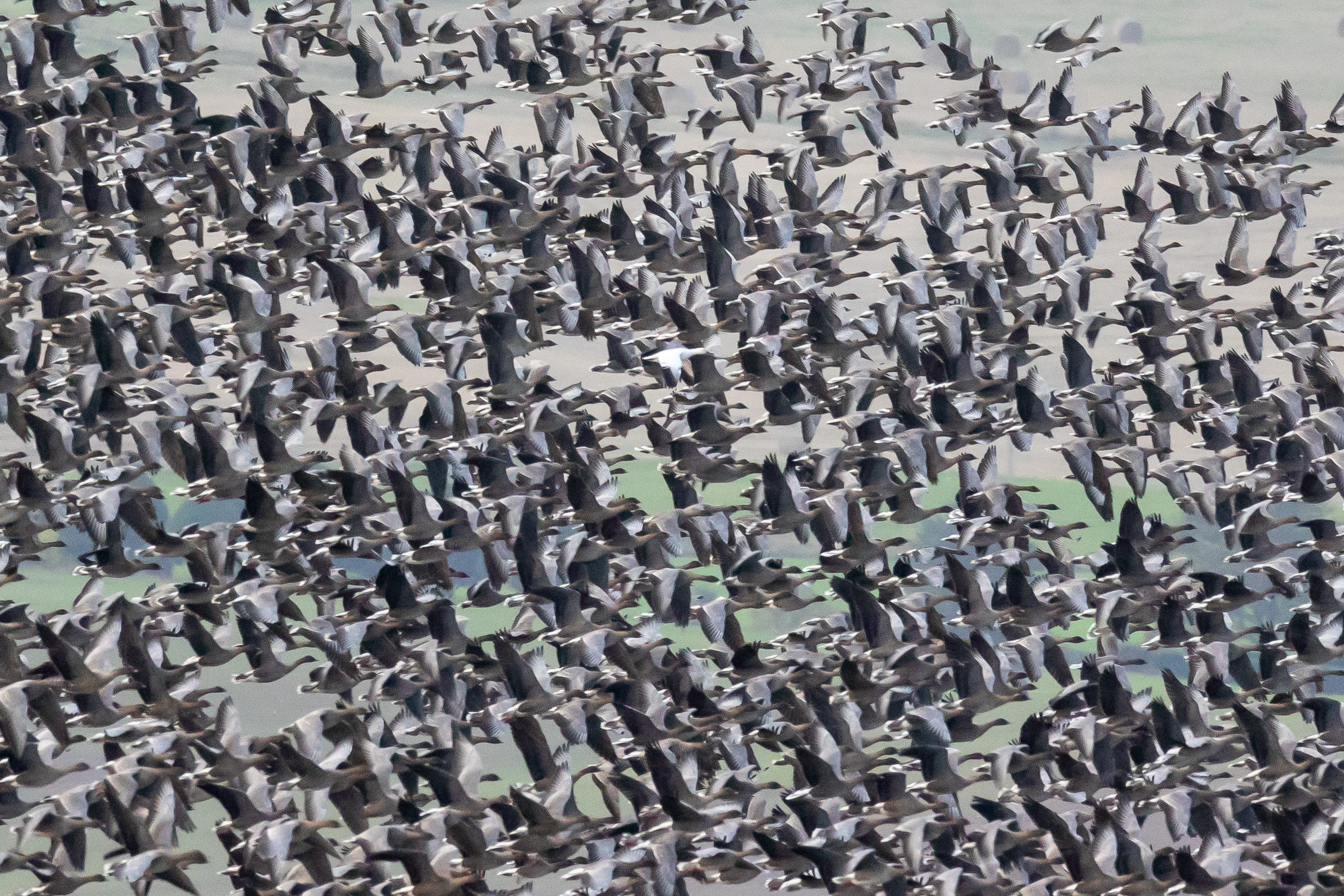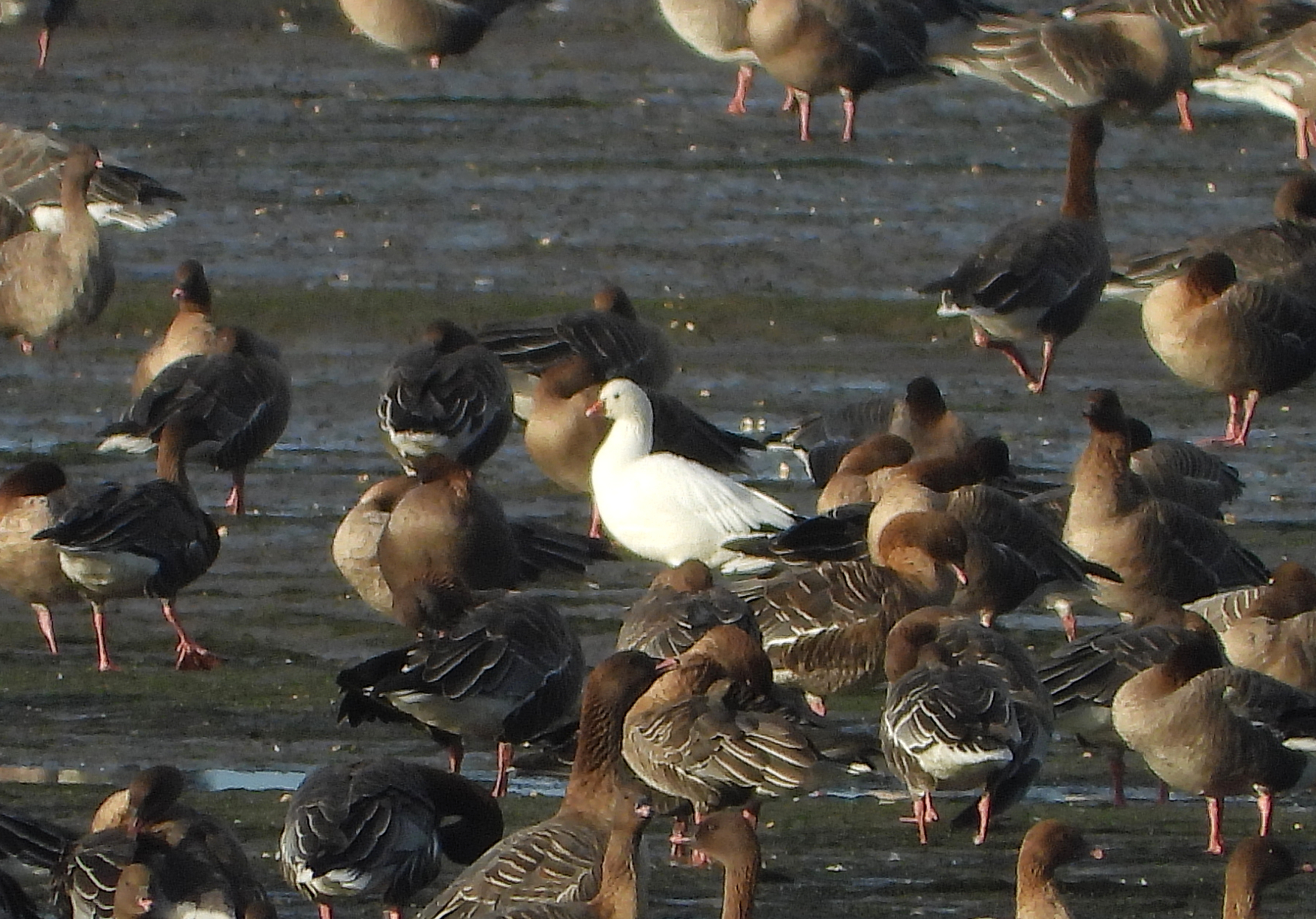 Even though a good number of the pink-footed geese will have moved on by the end of November, the Montrose Basin is still a magical place to visit in the winter months. Pop in to the visitor centre to help us spot our first kingfisher of the season, and watch the thousands of wading birds and ducks out on the mud flats! The centre is now on its winter hours, open Friday-Monday, 10:30am-4pm.
Joanna Peaker
Visitor Centre Assistant Manager
Help protect Scotland's wildlife
Our work to save Scotland's wildlife is made possible thanks to the generosity of our members and supporters.
Join today from just £3 a month to help protect the species you love.
---
Preface
Autumn at Montrose Basin is always an exciting thing to experience. Wading birds return to the reserve after breeding season, kingfisher sightings increase, and by the end of September, the …