Osprey Diary Friday 19th July
Another hot day today here at Loch of the Lowes, but our male Osprey has excelled himself bringing in five fish so far today. Our chick BlueYZ is still entertaining everyone with her flapping antics and has taken to sitting really close to the edge of the nest too, which is a bit nerve wracking for us.
Egg News:
Our unhatched osprey eggs where removed under license from the nest on Monday during the ringing and tagging procedure for the chick Blue YZ.
They were taken to Bob McGowan the Senior Curator of Birds at the National Museums Scotland yesterday, who kindly offered to check them for us.
He examined our eggs in detail to try to give us some answers as to why three of the four did not hatch this year. The eggs were examined under light and then blown and the contents extracted.
Two of the three unhatched eggs were rotten (not surprising in this heat when a minute amount of bacteria gets in) and one was not.
Only  one of the eggs showed any traces of fertilization: this consisted of a tiny amount of cells and blood vessels, consistent with the first few days of development, but it is likely that this embryo died inside the shell during its first week after laying, and we cannot be sure why.
This means that only one of the unhatched eggs had even been fertilized and that the others were in effect 'blanks' that were never going to hatch, despite their parents diligent care.
What this does tell us is that none of the eggs failed to hatch due to exposure during incubation (when our male bird left them for over an hour, cooling them considerably), as this was much later in the incubation period.
The most likely cause of the eggs being unfertilized is our females advanced age, or possibly some fertility problem in the pairing of the two birds.
The three unhatched eggs will now remain at the museum as part of their scientific reference collection, to aid future study of ospreys.
A big thankyou to Bob for his kind help.
Ranger Emma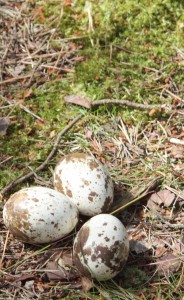 Help protect Scotland's wildlife
Our work to save Scotland's wildlife is made possible thanks to the generosity of our members and supporters.
Join today from just £3 a month to help protect the species you love.
---
Preface
Another hot day today here at Loch of the Lowes, but our male Osprey has excelled himself bringing in five fish so far today. Our chick BlueYZ is still entertaining …