Over a week has passed since our first two osprey chicks hatched, and along with our third chick (who hatched in the early hours of last Thursday morning) all are growing fast.
It is incredible to watch how quickly the chicks develop from vulnerable wee hatchlings, to finding the strength to lift up their heads to beg, before finally mastering trying to keep their unbalanced bodies upright.

The youngest chick masters begging for food alongside its siblings
The extremely high protein diet will see the young ospreys put on around 75% of their body weight within the first month! It is also incredible to think that by early to mid July these tiny wee osplets will fledge and begin learning how to catch their own fish under the watchful tutelage of their father LM12.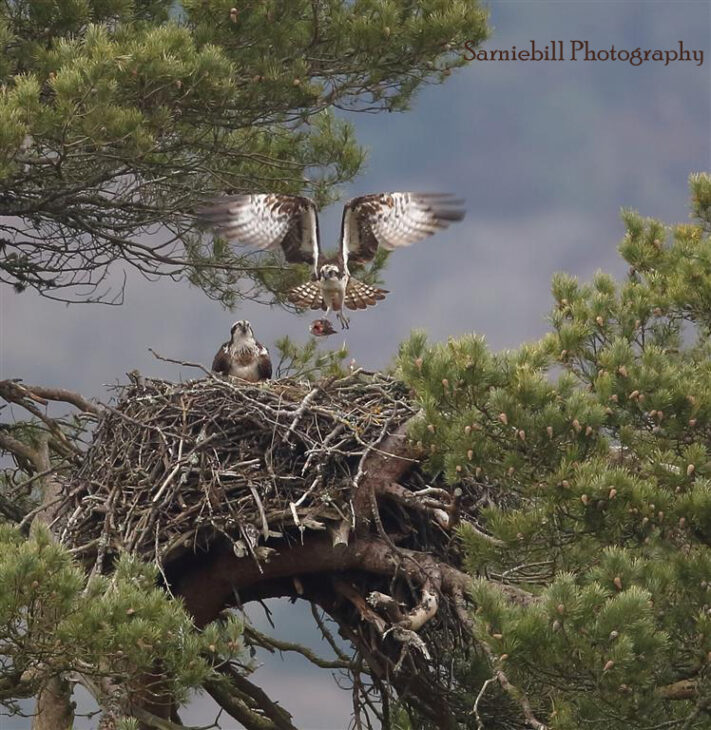 But for now life on the nest takes a steady routine of begging, eating and sleeping. The female osprey LF15 is extremely attentive and gentle when feeding her young, ensuring that all get a fair share across the day. It is easy to understand why visitors may get concerned about whether the smallest chick is getting enough food, however the female will often wait until the the larger chicks are satiated before focusing on her youngest offspring.

LF15 manoevers around the nest to ensure the smallest chick gets a good feed.
Some sibling rivalry and bullying behaviour is normal, but extreme violence and eating siblings (unlike in owl or eagle nests) is not the osprey way. Only if food is in short supply will some chicks fall behind in their development. Judging by the fantastic job LM12 is doing in bringing in at least 3 fish a day, it won't be long until the smallest chick has caught up in size and is tussling with their siblings for space and food.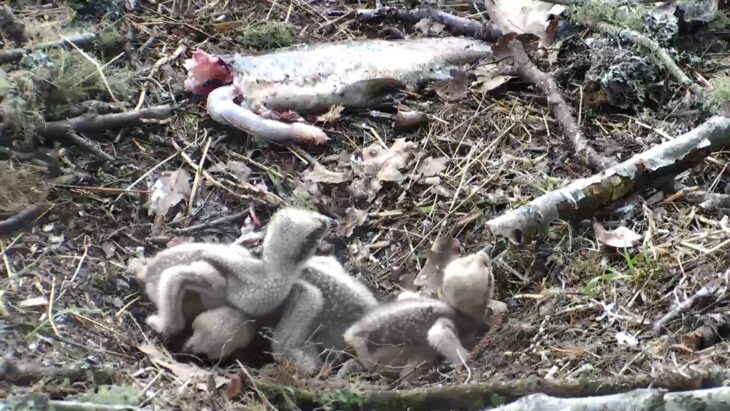 Both parents protective instincts are tested when any intruding ospreys come near the nest, and although such incursions have reduced greatly in number, as we covered in the previous blog, there are always young birds prospecting for a vacant territory, nest or suitable mate.
LM12 is never far away and the connection between the pair is fascinating to observe. Any aerial threats are met with the adoption of a defensive position on the nest, rather than risking injury in combat. LM12 tends to stand tall, mantle and guard call loudly, whilst LF15 will shelter her brood under her wings.

LM12 and LF15 defend their nest, young (and food) against intruders
Apart from the odd intrusion, things have generally settled down and the daily routine ticks along. LM12 must be feeling more relaxed as he has reverted back to one of his favourite pastimes; delivering sticks. In the past he has been known to bring sticks to the nest and drop them on the female. Whether it's affection, camouflage, or a bad aim is anyone's guess, but there is definite reasoning behind his latest gifts.
Throughout the season he will continue to bring material to further build up the sides of the nest to keep the young from falling over the edge, a bit like an osprey 'play pen'. Then as the weeks progress the sticks are used to create a platform from which the young birds can use to move about on, jostle and learn to beat their wings, before finally fledging.

Could LM12 be ospreys' answer to 'Changing Room's' Laurence Llewelyn-Bowen?
We hope you continue to follow the progress of the chicks on our livestream, or even better come down to the reserve. The visitor centre is open 10:30 – 5pm, seven days a week, and our double story hide is open around the clock.
Sara 'Raz' Rasmussen
Perthshire Ranger
Help protect Scotland's wildlife
Our work to save Scotland's wildlife is made possible thanks to the generosity of our members and supporters.
Join today from just £3 a month to help protect the species you love.
---
Preface
Over a week has passed since our first two osprey chicks hatched, and along with our third chick (who hatched in the early hours of last Thursday morning) all are …