Falls of Clyde Recent Sightings 5th-11th June 2017
This week has been another outstanding week for sightings on the reserve. I think this week the highlight for me is how all the white and pink foxgloves which have suddenly shot up and are dotted all around our blue route so keep an eye out as they are beautiful.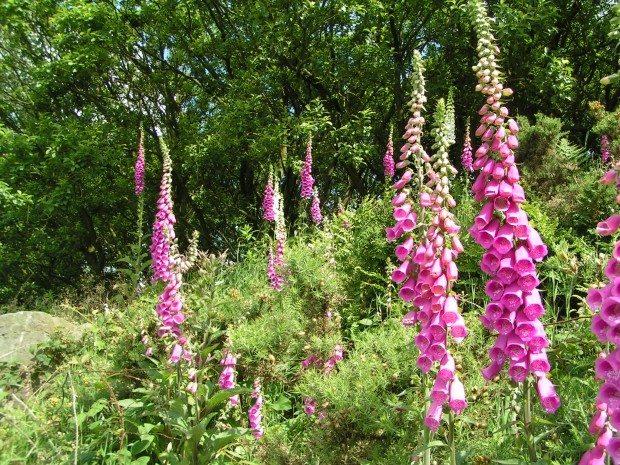 So first off with our mammals we had another successful badger watch where we saw one adult and one cub. There have also been multiple sightings of grey squirrel around the reserve. I have also been told that in the top field there is a roe deer with fawn so keep a look out and you may be lucky. I have also seen common pipistrelle and daubenton bats on my badger walk.
For our wildflowers we have wild garlic growing on the corehouse side of the reserve. We also have herb Robert, yellow pimpernel, sanicle, redcurrant, dandelion, great wood rush, lesser celandine, marsh marigold, dog's mercury, alternate-leaved golden saxifrage, yellow rattle, opposite-leaved golden saxifrage, red campion, common dog violet, wood sorrel, bluebell, wild strawberry and pink purslane. We also have the addition of wavy bitter cress, creeping forget me not, white dead-nettle, meadow saxifrage, water avens, crosswort, greater stitchwort, pignut and globe flower. The first sightings of our common spotted orchid are just poking their heads out so be on the lookout for those also.
Then moving onto our insects we have seen common carder bee, white tailed bumble bee and even have a tree bumble bee nest in one of our bird boxes which is amazing! For butterflies we have green-veined white and red admiral. I also managed to do a moth trap and the results from that are buff tip, two white ermine, peppered moth, four spruce carpet, two nut-tree tussocks, clouded–bordered brindle, four bordered white and a tawny barred angle.
For our birds on the reserve I think this is probably the second highlight of my week with a great sighting of an osprey fishing at the top of the reserve up near Bonnington Weir which is superb. Other birds include sand martin, swallow, swift and pied wagtail all flying around the water and meadows. We have chiffchaff, garden warbler, blackcap, willow warbler, robin, wren, great tit, blackbird, chaffinch, blue tit, coal tit all singing within our woods. Then on the water we have common sandpiper, dipper, grey wagtail and grey heron.
Feel free to send in your local sightings to fallsofclyde@scottishwildlifetrust.org.uk.
Mike Butler – Falls of Clyde Seasonal Ranger, Scottish Wildlife Trust
Help support our vital work and join us today!
Help protect Scotland's wildlife
Our work to save Scotland's wildlife is made possible thanks to the generosity of our members and supporters.
Join today from just £3 a month to help protect the species you love.
---
Preface
This week has been another outstanding week for sightings on the reserve. I think this week the highlight for me is how all the white and pink foxgloves which have …