Falls of Clyde Recent Sightings- 1-7 May 2017
Hey everyone,
Well it has been quite a week for sightings. We will start it off with some great news and that is that I have seen three badger cubs. They were all play-fighting just outside their sett, absolutely amazing experience and it will not be forgotten. This would probably be a good time to mention a shameless plug for our badger watching event which are coming up.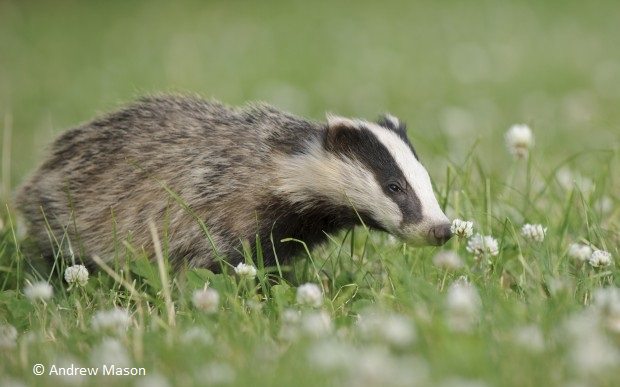 For our other sightings of mammals we have had reporting of roe deer and grey squirrel in all the usual places. There has also been something a little different with an American mink, this was seen at Bonnington Weir so keep your eyes out. There have also been sightings of pipistrelle bat as they feed above the woodland along the blue route at dusk.
For our wildflowers we have wild garlic growing on the corehouse side of the reserve. We also have wood anemone, dandelion, great wood rush, lesser celandine, marsh marigold, dog's mercury, cuckoo flower, alternate-leaved golden saxifrage, opposite-leaved golden saxifrage, red campion, common dog violet, wood sorrel, bluebell, wild strawberry, pink purslane and moschatel. We also have the addition of wavy bitter cress, creeping forget me not, water avens and globe flower.
I managed to get out and complete some moth trapping which is great in which we got five Hebrew character, two brindled pug and one early thorn, there was also a sighting of a herald moth that wasn't hibernating! For butterflies we have green-veined white, orange-tip butterfly, peacock and comma all sighted this week. We also had a sighting of large red damselfly which is the first of the year for me. For our bumblebees we have had sightings of buff-tailed bumblebee, white tailed bumblebee and common carder bee.
This week for a bird sightings we have had blackcap, willow warbler, dipper, grey heron, jay, common sandpiper, magpie, mute swan at the top of the reserve, grey wagtail, sand martins and swallows flying overhead. The usual great tit, blue tit, wren, blackbird, robin are as always singing their little hearts out.
Finally to our sightings of the reserve and it looks as though the swifts have finally arrived with reportings in Biggar, Lanark Loch, Crossford, Rosebank, then at Merryton there were two singing garden warbler.
Feel free to send in your local sightings to fallsofclyde@scottishwildlifetrust.org.uk.
Mike Butler – Falls of Clyde Seasonal Ranger, Scottish Wildlife Trust
Help support our vital work and join us today!
Help protect Scotland's wildlife
Our work to save Scotland's wildlife is made possible thanks to the generosity of our members and supporters.
Join today from just £3 a month to help protect the species you love.
---
Preface
Hey everyone, Well it has been quite a week for sightings. We will start it off with some great news and that is that I have seen three badger cubs. …