Protect the mountain hare!
Did you know that between 1995 and 2010 mountain hare records have declined by 52%? Although these surveys by BTO are not comprehensive it shows a worrying decline is emerging. In fact, no one really knows how many mountain hares we have left and no one really understands the reasons for the decline however as with most species declines, a few factors are generally involved: people, habitat loss, habitat fragmentation and climate change.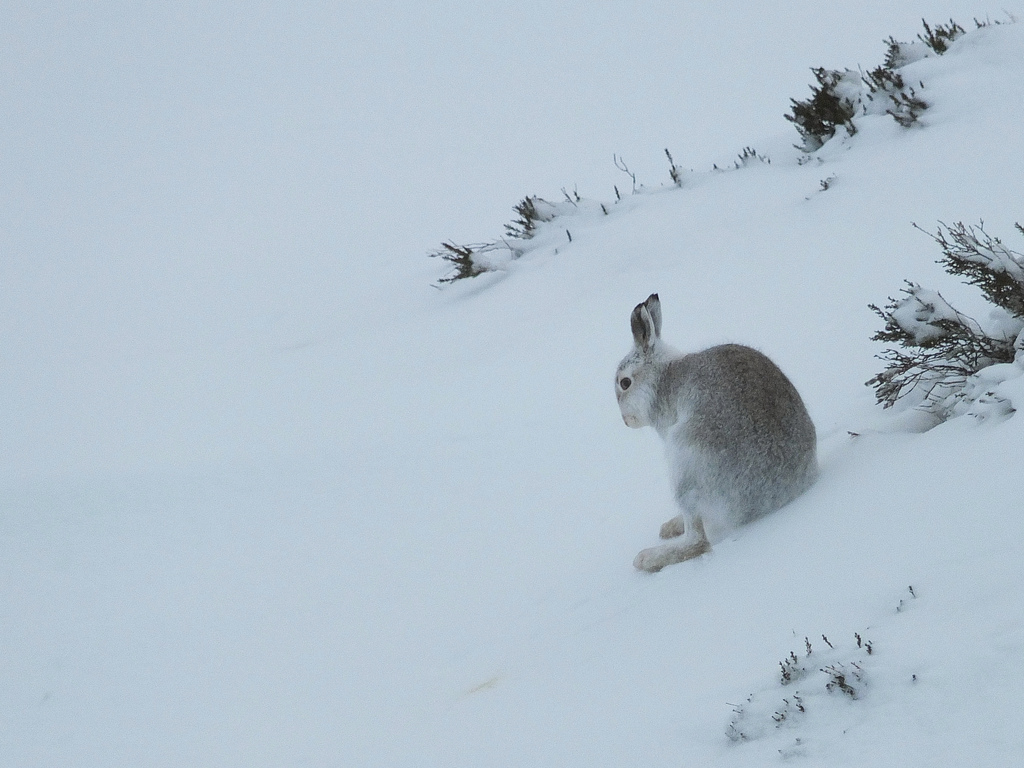 It is actually legal to hunt mountain hare as they may help spread sheep ticks, which carry a disease called louping-ill that affects grouse. Every year thousands of mountain hare are shot for sport or culled on grouse moors to help protect grouse. The problem lies in the fact that there is little good evidence supporting the claims that culling the mountain hare improves grouse health and hunting income. I don't know all the facts about this but it seems wrong to shoot a species which has been native since the last ice age because they may carry a disease that sheep suffer from and spread to grouse.
It makes me sad to think that one day these beautiful creatures may one day no longer exist in Scotland. At the moment there is a petition to try and give the mountain hare a protected species status, which would amongst other things make it an offence to kill mountain hare. If you would like to sign the petition please follow this link – Protect the mountain hare!. Please note this weeks post contain my own views and not that of the Scottish Wildlife Trust. For Scottish Wildlife Trust views follow this link – Scottish Wildlife Trust Mountain Hare Position Statement.
Laura Preston – Scottish Wildlife Trust, Falls of Clyde Ranger
Help support our vital work and join us today!
Help protect Scotland's wildlife
Our work to save Scotland's wildlife is made possible thanks to the generosity of our members and supporters.
Join today from just £3 a month to help protect the species you love.
---
Preface
Did you know that between 1995 and 2010 mountain hare records have declined by 52%? Although these surveys by BTO are not comprehensive it shows a worrying decline is emerging. …