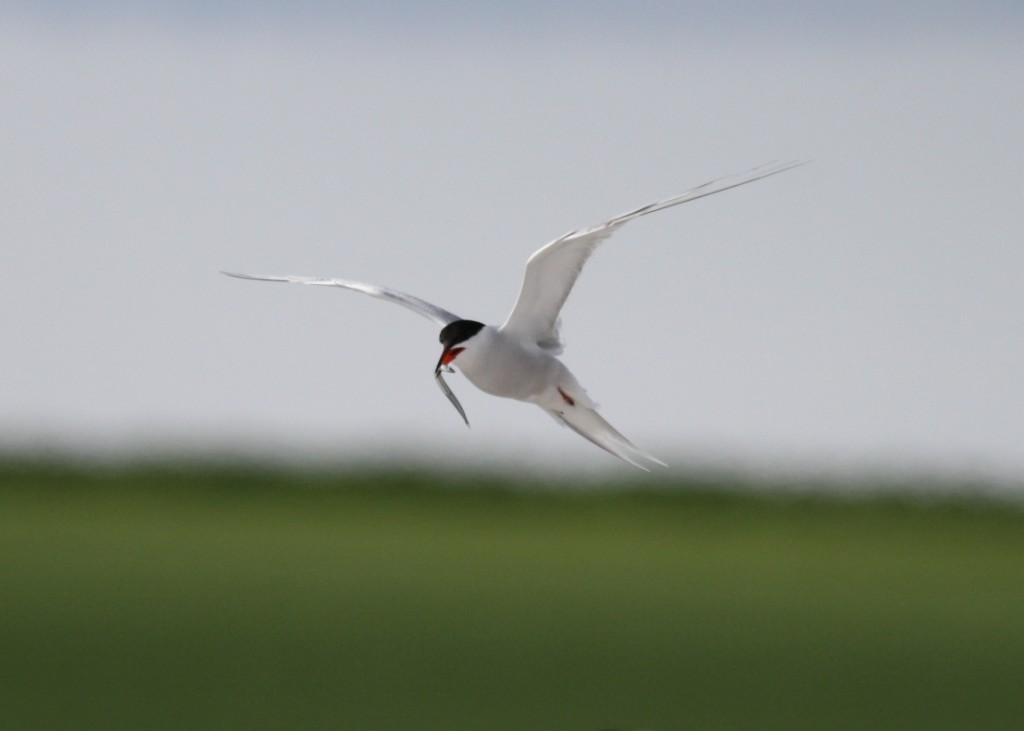 A lot of our attention this week has been focused towards the Tern raft, with many questions still to be answered. Will the Terns arrive back in good numbers this year? Will they choose to nest on the raft? Will they successfully breed and raise young? Will they encounter any of the problems they have faced the past two years? Over the last week the signs have looked encouraging, with last Fridays 2 Common Terns quickly rising to the 10 by Saturday and up to 35 today. A few males were even seen presenting fish to females today, a sure sign that courtship is in full swing. With the raft now being fully prepared and, hopefully, with a nice summer ahead of us, we should see a successful breeding season and a step towards the higher numbers of the past.
Sand Martin numbers have continued to stay low, with only a few seen over the past week and none chosen to nest in the wall as of yet. There have been 2 Swallows regularly flying into the eaves of the Visitor Centre, looking like they are ready to nest. Osprey sightings have continued to be a daily occurrence, with one individual settling on the fence posts directly in front of the Centre before being chased away by Carrion Crows and 2 individuals being seen at the same time on the mud today.
Other sightings on the reserve have included 2 Gadwall seen on Saturday and Sunday in the salt pans. Although not a particularly uncommon species, seeing a pair here in springtime was a bit of a surprise. Gadwall are mainly an overwintering species, with their numbers reducing to around 1,000 breeding pairs over the summer, with those pairs preferring to breed at the edges of lochs and gravel pits. The Salt Pans also held a Water Rail today and a Moorhen yesterday. A Marsh Harrier was seen from hunting along the edge of Mains of Dun farm from the Visitor Centre this morning, thought to be a female due its dark body and contrasting light coloured head.
For all our latest sightings just make sure you read our reserve sightings blog between Friday and Sunday every week.
Craig Shepherd,
Visitor Centre Assistant manager.
Help protect Scotland's wildlife
Our work to save Scotland's wildlife is made possible thanks to the generosity of our members and supporters.
Join today from just £3 a month to help protect the species you love.
---
Preface
A lot of our attention this week has been focused towards the Tern raft, with many questions still to be answered. Will the Terns arrive back in good numbers this …