Your wildlife garden part 4 – Cleaning your feeders
Using birdfeeders in your garden is, of course, a good thing for our garden birds, however, it's important to make sure they are maintained and kept clean at all times. Attracting large numbers of birds to feed in one area increases the risk of disease, due to the fact that their bird droppings have a higher chance of mixing with the food they're eating. These diseases, when picked up, can then be spread around much quicker than usual as the birds pass between feeding stations in different gardens. So what are the best ways of reducing the risk of disease being spread amongst your garden birds?
The obvious answer is to ensure that your bird feeders are kept clean, the trick is just in being meticulous about it.
Clean regularly: You should clean your feeders at least once a month, or more regularly if they are busy feeders. Make sure that food isn't left in the for too long, empty out the unwanted seed at the bottom of feeders and if the food takes too long to clear then reduce the amount you are putting out.
Clean thoroughly: Make sure that you clean all parts of the feeders, inside and out. This means cleaning all feeding perches, lids, poles and hooks, as anywhere that the birds come in contact with can harbour faeces and therefore disease. Also make sure that you clean any surrounding areas of ground that faeces and mouldy food may accumulate.  Water containers should be rinsed out almost daily as they are often full or droppings.
Use the correct products: It's important not to use too concentrated a solution of disinfectant as this may also harm the birds. Around a 5% disinfectant/bleach solution is ideal for cleaning the feeders, with a more ecologically friendly solution being preferable to those with higher chemical levels. Instead of leaving bare ground under the feeders you can line the ground with EVA foam (as we do here at the Visitor Centre). This is waterproof, easy to keep clean and catches droppings and food over a larger area. The foam can be easily swept and washed on a regular basis, before being re-used.
Rinse and dry feeders: Once you have cleaned your feeders it's equally as important to remember to rinse them and dry them thoroughly before replacing them. They should be rinsed under clean water for at least ten seconds to make sure all chemical residue is removed before being left to dry completely. Any remaining moisture may lead to mould or mildew, rotten food and therefore illness for any birds that eat the affected food.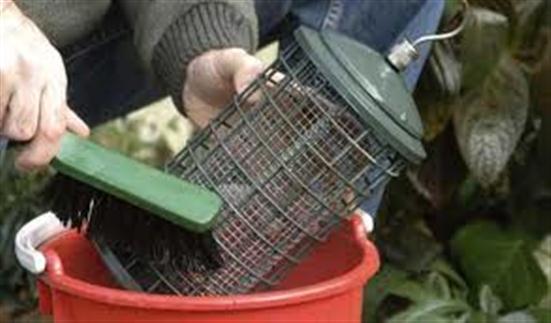 One final point to remember is to be conscious of your own hygiene whilst cleaning your bird feeders. Make sure that you wear rubber gloves, never bring your feeders into the house when cleaning them and always remember to wash your hands after.
Craig Shepherd,
Visitor Centre Assistant Manager.
Help protect Scotland's wildlife
Our work to save Scotland's wildlife is made possible thanks to the generosity of our members and supporters.
Join today from just £3 a month to help protect the species you love.
---
Preface
Using birdfeeders in your garden is, of course, a good thing for our garden birds, however, it's important to make sure they are maintained and kept clean at all times. …