Despite the past weeks (predominantly) awful weather, there have still been plenty of good sightings here at Montrose Basin.
Although becoming anything but a rare sight here at the Visitor Centre, the still spectacular Kingfisher has been seen on 6 of the last 7 days. The majority of sightings have been of a solitary male, who has been using the perches in both the salt pans and the Sand Martin pond to fish from. Thankfully it has been allowed to lead a more peaceful existance since the frightening Sparrowhawk attack last month! (see blog September 29th). Another regular sight around the Visitor Centre over the past week has been a Water Rail. Although much harder to spot than the Kingfisher, and unlikely to hang around in the open for very long, there have been 4 individual sightings this week.  The well trained, or perhaps just fortunate, eye can spot it from the Visitor Centre windows skulking in the reeds around the salt pans.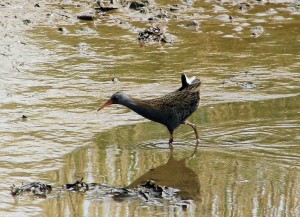 Sunday the 19th was a particularly busy day around the feeders, with a Scottish Ornithological Society (SOC) group from Dumfries, helping us make quite a few good sightings. Along with spotting the Water Rail, they also had a female Blackcap, a Brambling and a Stonechat. There have also been very healthy numbers of Tree Sparrows in the centre grounds, with up to 30 being spotted. Other good sightings on the reserve have included 25 Golden Plover, 7 Greenshank and a Whimbrel spotted on the 18th and 11 Little Grebes on the 16th.
On the Pink Footed Goose front, there are still around 30,000 here on the reserve, so numbers haven't dropped at all over the past week. With these strong winds, however, the geese may decided to start moving south whilst it's easier for them to do so. So best to come down and see them in large numbers whilst you still can! One wintor visitor that hasn't been seen in high numbers this year is the Whooper Swan, with a maximum of 4 individuals counted to date. Once again this is probably due to the stromg winds helping them on their journey south, with their being less of a need to stop and rest when their journey is being made as easy as possible for them already. The numbers of overwintering Whoopers have also shown a marked decrease from the years when the local farmers used to put out piles of grain for them to feed from. This meant that the Whoopers started to abandon their usual wintering sites and instead overwintered here at the Basin, with up to 250 residing some years (see blog December 2012).
Craig Shepherd,
Visitor Centre Assistant Manager.
Help protect Scotland's wildlife
Our work to save Scotland's wildlife is made possible thanks to the generosity of our members and supporters.
Join today from just £3 a month to help protect the species you love.
---
Preface
Despite the past weeks (predominantly) awful weather, there have still been plenty of good sightings here at Montrose Basin. Although becoming anything but a rare sight here at the Visitor Centre, …