Wildlife Diary Frid 12th July
Another hot and heavy day here at Loch of the Lowes with the staff, visitors and wildlife alike trying to keep cool in the shade as much as possible.
Two fish deliveries by the male osprey today so far ( a pike and a perch), and some sticks and mud- perhaps he is instinctively trying to build up the nest sides to contain his  adventurous youngster!
The female osprey spent some more time today on the dead tree perch to the left of the nest, so even though she was sometimes out of sight of the nest camera, she was never far away of her chick needed her.
The chick has been a real fidget today, panting in the sun, moving sticks, and lots and lots of wing stretching and hopping- all totally normal at this stage of development. The chick will not fledge for approximately another two weeks, but will spend all that time building vital flight muscles.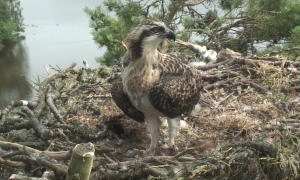 Elsewhere on the loch, our two Great crested grebe chicks are doing well, and a large family of Tufted ducks with  chicks in tow was seen today.
We have two great new videos from our camera taps to share with you- one of a tiny new fallow deer fawn and one of a very cheeky otter– just click the links below to see them:
http://www.youtube.com/watch?v=cxOCoRyqaeg&feature=share&list=UUIiOkDLJnNpOnI2PPgtz43w
 http://www.youtube.com/watch?v=to6lXMY_3R0&feature=share&list=UUIiOkDLJnNpOnI2PPgtz43w
 Lastly our Satellite Tracked osprey chick Blue YD from 2012 is still doing well in Senegal , Africa and his latest movements can be seen by zooming in on our interactive map at: http://scottishwildlifetrust.org.uk/things-to-do/osprey/
You can see he hasn't moved a lot in the last week, still happily hunting on the beaches and lagoons on the tropical coast- lucky thing.
 Ranger Emma
Help protect Scotland's wildlife
Our work to save Scotland's wildlife is made possible thanks to the generosity of our members and supporters.
Join today from just £3 a month to help protect the species you love.
---
Preface
Another hot and heavy day here at Loch of the Lowes with the staff, visitors and wildlife alike trying to keep cool in the shade as much as possible. Two …