Wildlife Diary Sunday 31st March
by Lindsey, Wildlife Interpretation Officer
Late last night Emma, myself and the volunteers where treated to display of talon washing by our resident female. This is amazing to watch as she skims the surface of the loch just dipping her talons in to clean them.
She's a quiet day on the nest doing a bit of housekeeping but he's not been in sight much except for bringing some nesting material around lunchtime. She did do something unusual as she poo-ed straight into the nest, given that she's normally she's such a fastidious bird keeping the nest clean this was surprise.
He finally presented her with a fish – a lovely big Brown Trout, good going seeing as most of the lochs in the area are still frozen. The Rivers Braan and Tay are still flowing clear so there's plenty of fish available.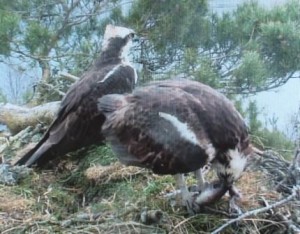 We've had an Osprey question – if you've any questions check out our Osprey FAQ page at the top of the blog or if you can't find the answer there email osprey@swt.org.uk
Q. Assuming the other female was pregnant when she left what will happen to her eggs?
A. Well one of three things may happen
1) She has another mate and nest and he brings up the chicks thinking they're his. Something similar happened at Loch Garten last year when the female EJ mated with a new male before her regular mate Odin returned
2) She will reabsorb the eggs, she's still early enough on to be able to do this
3) She will lay the eggs but abandon them as raising chicks is definitely a two bird job.
The cold weather is also interfering with other bird's plans and we've seen both the Goldeneye and Great Crested Grebe stop displaying to save energy. Our Squirrels are on fine form in and out the feeders and chasing each other round the trees, this morning when I was topping up the feeders I was surrounded by Squirrels it was fantastic.
Our webcam has crashed again, possibly due to demand. We're doing our best to fix it at this end but we do not have tech support on site so we may have to wait until they're available.
Help protect Scotland's wildlife
Our work to save Scotland's wildlife is made possible thanks to the generosity of our members and supporters.
Join today from just £3 a month to help protect the species you love.
---
Preface
by Lindsey, Wildlife Interpretation Officer Late last night Emma, myself and the volunteers where treated to display of talon washing by our resident female. This is amazing to watch as …