Wildlife Diary and Osprey Update 22nd March
The excitement is really starting to mount here at Loch of the Lowes osprey sightings trickling in and news of birds arriving at other UK sites, such as Rutland Water , giving us hope ours may not be far away. Our staff and volunteers are keeping a keen watch on the loch and the nest from the hides for any arrivals.
 A bird was seen yesterday by the ranger team on patrol, over the Loch of the Lowes, circling slowly looking for fish, and then sailing away to the North-east- probably a passing bird but exciting none the less.
As one of our friends on Twitter said today: "If I were an Osprey arriving in this, I would turn around and head back to Africa!" such is the cold wind and driving snow visible on the webcam today.
 Every year Ospreys gamble with migration – start off heading north early, and they may get to their nest first and secure it from rivals, but the journey may be harder, and the weather here a real problem (frozen lochs are no good for fishing!). Leave it later and wait for easier winds etc, and Ospreys may find their nests already occupied and their partners being courted by a rival.
 In other news, Our young Osprey Blue YD continues to do well in Senegal and has stayed on the coast this week, living a relatively easy life on the beach! Here is a picture of his movements recently which shows he has been hunting in the waves, sitting around on sand dunes and visiting some higher vegetation a wee bit inland occasionally to roost. Nothing could be further from the conditions here!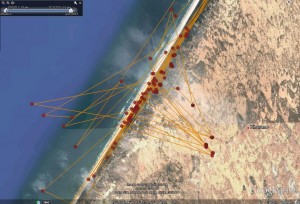 If you are looking for something to keep your family occupied this weekend, why not bring them up to the Loch of the Lowes , where we have some great kids activities on offer on the theme of Spring Equinox– all free with Visitor centre entry. You can help keep a watch for ospreys too ! If in doubt give us a call to check the weather here before you set out.
Help protect Scotland's wildlife
Our work to save Scotland's wildlife is made possible thanks to the generosity of our members and supporters.
Join today from just £3 a month to help protect the species you love.
---
Preface
The excitement is really starting to mount here at Loch of the Lowes osprey sightings trickling in and news of birds arriving at other UK sites, such as Rutland Water …