Twite are often seen as boring or dull birds to non-birders, or those that just haven't given them the time of day, and along with other species are often called little brown jobs or LBJ''s for short.  But take time to admire them and you will see that these LBJ's do have a subtle charm!  The Twite in many ways lies halfway between Linnets and the Redpolls, but is more closely related to the Linnet, in appearance and behaviour.  Twite are more similar in appearance to the streaky female Linnets as opposed to their more flamboyant male counterparts but can still be distinguished by their longer tails, pinkish rump and peachy face with subtle yellow bill.  Unlike the very similar Lesser Redpoll the Twite isn't a dangler from Birch twigs or Alders but instead is a ground feeder, moving in tight flocks looking for seed.
A lot of the Twite's charm also seems to lie in its scarcity across most of the UK, breeding mainly in the Highlands and only moving further south and out towards the east coast in the winter, at which time many birders get their first chance to see them.  In winter our native birds are also joined by birds from continental Europe, which mainly overwinter on the East Coast of England, bolstering our total number to over 100,000. 
Here at the Basin there have been flocks of up to 100 individuals, mainly seen at the North-West of the reserve.  The best chance to see them is on the piles of grain, laid out at the side of the path down to the bird hides, just before the path splits in two.  Bird ringers have recently caught 90 Twites at this site, about 50 of which they went on to ring whilst the others were re-catches, already with rings.  The ringers used a whoosh net to catch the Twite, firstly using niger seed, laid in advance to entice the birds to feed on the ground.  The net is then operated by a length of rope with a handle, which is pulled from a distance when the birds are feeding, this in turn causes a bungee cord to pull the net out, with height gained by the net being attached to rings which slide up and angled pole.  The end result being plenty of birds safely caught underneath the net and ready to ring!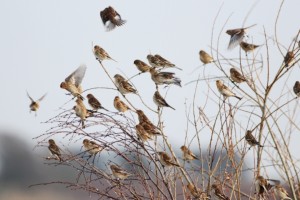 Craig Shepherd,
Visitor Centre Assistant Manager.
Help protect Scotland's wildlife
Our work to save Scotland's wildlife is made possible thanks to the generosity of our members and supporters.
Join today from just £3 a month to help protect the species you love.
---
Preface
Twite are often seen as boring or dull birds to non-birders, or those that just haven't given them the time of day, and along with other species are often called …