Female osprey LF15 has laid her third egg of the season at Loch of the Lowes Wildlife Reserve.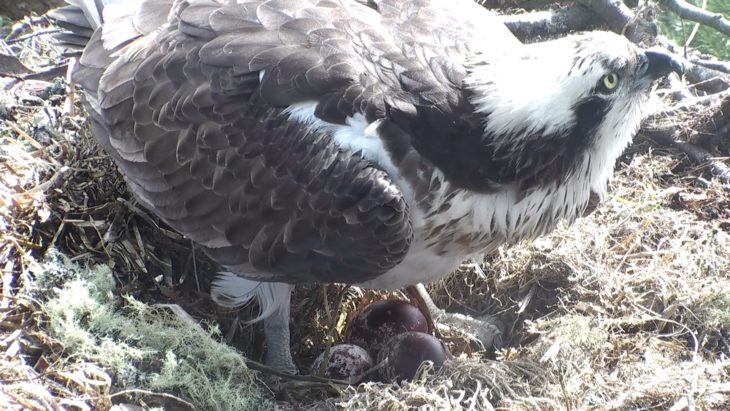 Charlotte Fleming our Perthshire Ranger said: "We're delighted that LF15 has laid another hat-trick of eggs in her third season at Loch of the Lowes. Thanks to players of People's Postcode Lottery our staff and volunteers are watching the nest around the clock to ensure that there is no human disturbance, giving our osprey pair their best chance of successfully hatching their eggs in just a few weeks' time."
Ospreys typically lay 2-3 eggs. They are incubated for an average of 37 days, which means the first hatching could take place as early as 11 May.
Ospreys were extinct in the UK in the early 20th Century but there are now around 240 breeding pairs thanks to the efforts of conservation charities including the Trust. Our Osprey Protection Programme is supported by players of People's Postcode Lottery.
Clara Govier, Head of Charities, People's Postcode Lottery said: "Our players' support for the Osprey Protection Programme at Lowes of the Lowes Wildlife Reserve means the birds are in safe hands. We'll be glued to the Trust's live webcam until LF15's eggs hatch!"
Members of the public can follow the ospreys' progress on a live webcam or by visiting our Loch of the Lowes Visitor Centre, which is open daily from 10am – 5pm.