Osprey Diary at Loch of the Lowes – Week 7 (An eggsxciting week!)
The beginning of the week was very wet and rainy as we waited in anticipation for the tell-tale signs of the first egg hatching (and hoped perhaps that it would happen on a sunnier day!) NC0 and LM12 did stellar job of continuing to incubate the eggs and keep them safe and dry during such a crucial time.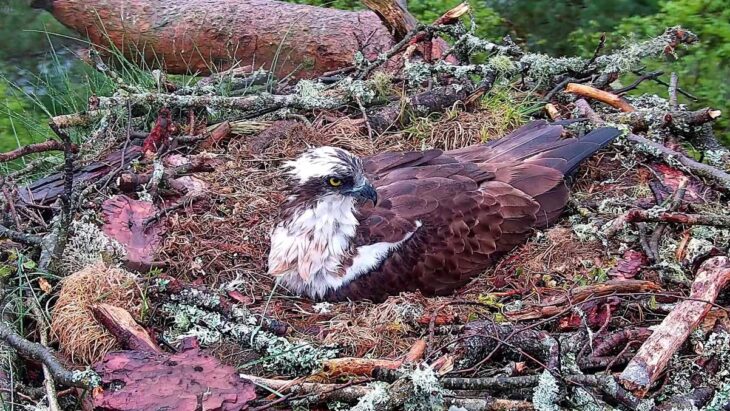 Intrusions onto the nest from other ospreys continued this week, following a pattern we have already been seeing. Particularly dramatic was an intrusion on Tuesday by a ringed osprey, which LM12 deftly chased away from the nest. This has been identified as osprey Blue/ White 327, ringed in the Loch Lomond area by Dave Anderson in 2020. Interestingly this youngster was spotted in Gambia by Fansu Bojang and Chris Wood in 2021, before making its first migration this season. See below for a slow motion clip of LM12's chasing skills!
You can find out about why this sort of activity might be occurring in Species Protection Officer Bethany's blog from a few weeks ago here.
The real excitement (and the moment we had all been waiting for) came on Wednesday evening, almost exactly 37 days after the first egg was laid. This began with NC0 starting to exhibit some of the classic signs that the first egg might be close to hatching, calling to communicate with the chick and becoming visibly restless as the chick began to move. Then finally at 22:36 SPOs Charlotte and Bethany noticed the first signs of a hole developing in one of the shells – a sure sign of a chick about to emerge!
It was then 12 hours until we finally got to see our first chick making it (mostly) out of the egg. This happened in quite a dramatic fashion during an intrusion by 2 rival ospreys to the nest. LM12 and NC0 once again did a fantastic job of defending the nest and protecting the chick/eggs whilst we got a fantastic close-up of the little one emerging into the world at 10:26am on Thursday! Watch below for highlights of the full process and read here for more information on egg 1 hatching.
We didn't have very long to wait until the next fluffy arrival. At 12:33 on Friday the first signs that the second chick was on the way were spotted, with the classic small first hole in the shell appearing. 15 hours later at 3:24am on Saturday chick two emerged into the world – this time very much rearing and ready to go, practically walking out of the egg! You can read more about this here.
We've been witnessing a fascinating change in behaviour in the adult ospreys once the chicks are born, with NC0 immediately incubating the whole time, never leaving the nest at all, apart for taking brief toilet flights and wing stretches. She will continue to do this for the chicks in the first few weeks of their lives, sheltering and protecting them from inclement weather conditions and predation from other birds.
In addition, LM12 now has upped his fish game, bringing an average of 3.25 fish to the nest each day so far, for NC0 to eat and feed to chicks in the nest. The number of fish brought to the nest is likely to rise, with male ospreys sometimes providing as much as 6 fish per day for their up-and-coming families! Feeding the chicks plenty of fish is incredibly important at this time for their survival and development, with osprey chicks putting about ¾ of their body weight in the first month of their lives. NC0 has been doing a great job of very carefully tearing pieces of fish for the chicks, and delicately delivering into their hungry wide open mouths!
It's truly amazing to see that, after such a consistent pattern for 5 weeks of incubation, as soon as the first egg hatched both NC0 and LM12 immediately changed their roles and knew what to do next (despite perhaps some sadness on LM12's part that his incubation duties have now pretty much finished!).
We are now waiting on tenterhooks for the final egg to hatch, with a small hole having appeared at the time of writing this blog. Crossing all fingers for the final chicks' successful entry into the world! Watch this space on our live webcam here and follow us on Twitter or Facebook for regular updates.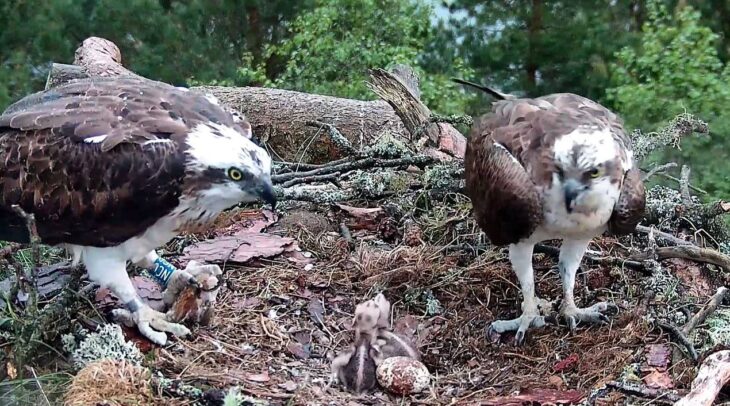 Katie Berry
Species Protection Officer
The Trust's Osprey Protection Programme at Loch of the Lowes is supported by players of People's Postcode Lottery.
Help protect Scotland's wildlife
Our work to save Scotland's wildlife is made possible thanks to the generosity of our members and supporters.
Join today from just £3 a month to help protect the species you love.
---
Preface
The beginning of the week was very wet and rainy as we waited in anticipation for the tell-tale signs of the first egg hatching (and hoped perhaps that it would …