Why do we call them 'skeins' of geese?
The autumn equinox has just passed, but the unmistakable 'heralds of autumn' were making their voices heard well before that.
People across Scotland heard their first pink-footed geese of the season quite early this year: reports of around 200 geese came through from northern Scotland in the early hours of 6 September, and later that same day, 200 appeared at Montrose Basin! Whether or not they were the same ones is impossible to say, but it was confirmation of an early beginning to pink-footed goose season. Perhaps the wind was blowing just right one day in early September, and the pink-footed geese in Iceland and Greenland chose to take advantage of it.
The numbers have been increasing sporadically since then, but we've definitely noticed a larger influx in the past couple of days. 15,000 was the estimate yesterday morning, but by mid-October we often get closer to 70,000. The skeins of geese returning to the reserve in the evening now often look less like 'v's and more like vast, shapeless clouds.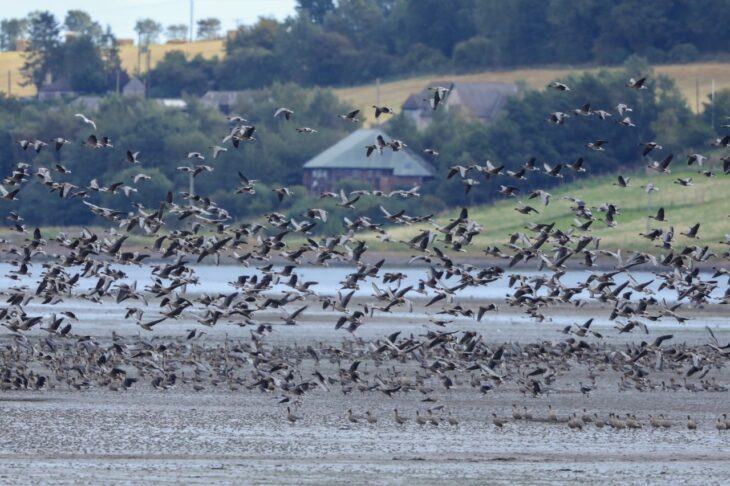 Where does the word 'skein' come from?
A skein can refer to either a flying group of wildfowl (usually geese), or – weirdly – a length of yarn. When you see geese flying overhead in their classic 'v' shape, it's easy to imagine the inspiration for adopting the same term (although whether or not the connection really works this like is a bit of an etymological mystery). With their very efficient, orderly lines, they can kind of look like a long piece of wool gliding through the sky, rippling as the geese change positions. You might have to squint your eyes a bit though.
The Montrose Basin is such a special place at this time of year because of the sheer number of geese we get in autumn. When the numbers start reaching the peaks of 80,000, it's impossible to wrap your head around the quantity. Our skeins become less like elegant, stretching pieces of thread, and more like messy, tangled (and noisy) balls of wool filling up the horizon. We say this in the fondest way possible, of course.
It's not just the Montrose residents that are very taken with the pink-footed geese, though – recently, a pair of spoonbills have sometimes been spotted amongst them. The best place to see the geese at dawn and dusk is from the Tayock. You can always give the centre a call during our opening hours if you would like a map or directions.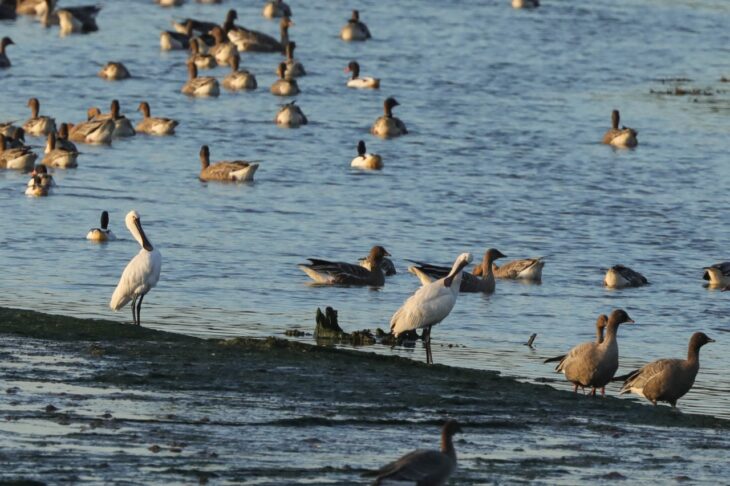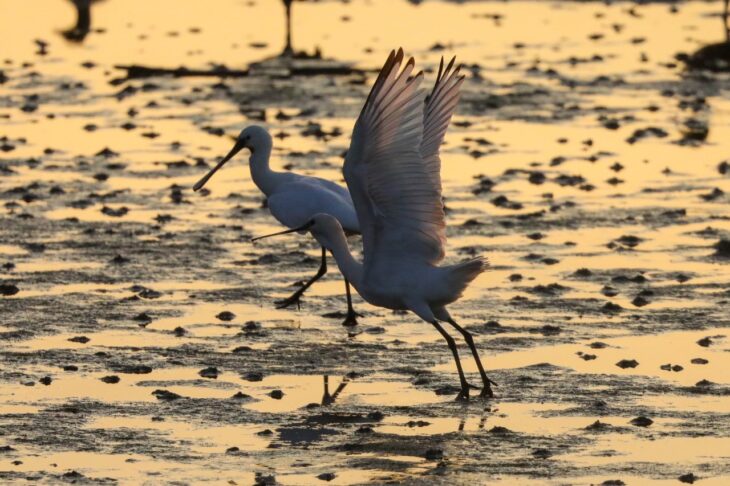 All of our our early morning and after-hours goose viewing admissions from the visitor centre have sold out. You can still book a timeslot within our regular opening hours.
Thank you to players of People's Postcode Lottery for making these extended opening hours possible this autumn.
Joanna Peaker
Montrose Basin Visitor Centre Assistant Manager
Help protect Scotland's wildlife
Our work to save Scotland's wildlife is made possible thanks to the generosity of our members and supporters.
Join today from just £3 a month to help protect the species you love.
---
Preface
The autumn equinox has just passed, but the unmistakable 'heralds of autumn' were making their voices heard well before that. People across Scotland heard their first pink-footed geese of the …