Following on from last week's post on St Mark's flies, Flyday, Saturday we've spotted another fly species here at the Falls of Clyde, which has a rather interesting life-cycle. Bee-flies are insects which you may well have seen before, but might not have recognised as a fly. At first glance these bugs do a good job of looking similar to a bumblebee or solitary bee species, however on closer inspection they have a much more "fly-like" face and a rather menacing looking proboscis (tongue) which protrudes at all times (don't worry, they're not harmful to humans. That proboscis is used exclusively for nectar sipping.)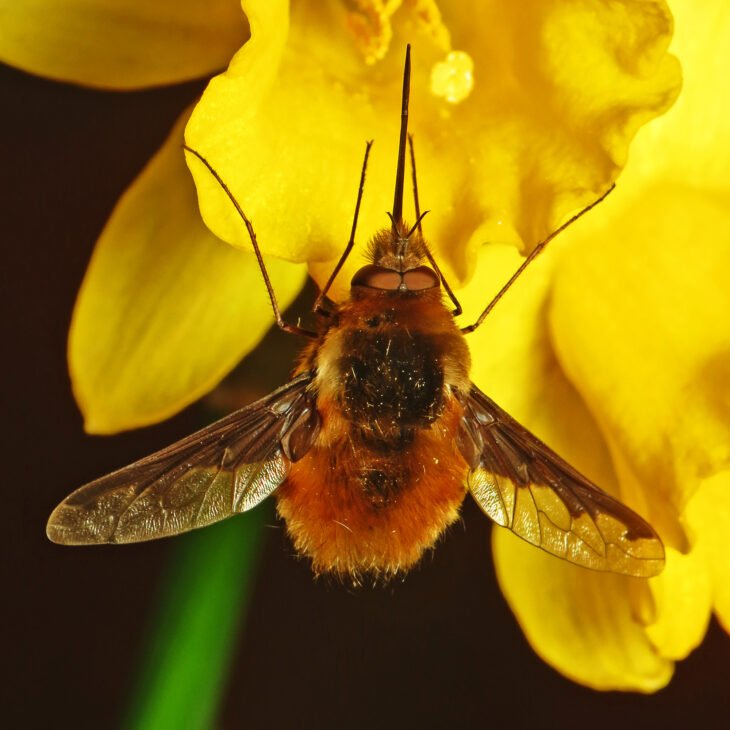 But what's the point in doing quite a good impression of a bee? Well, the answer might lie in bee-fly reproduction, since these insects parasitise the nests of solitary bees. The way that they do this is what has given them their fantastic Latin name, Bombyliidae.
Firstly, the female will find a patch of sand and rub her tail end in it. What she's actually doing here is collecting bits of the sand in a chamber in her abdomen, to be mixed with her eggs. She will then fly to the opening of a solitary bee's nest, and fling her eggs into the hole, whilst hovering in mid-air (a great video of this bee-bombing can be found here.)
It's thought that mixing in sand with her eggs adds weight to improve her aim, and helps to mask any biological indicators to the host bees.  From there the predatory larvae will hatch from the eggs, inside the solitary bee's nest and will eventually attack the larvae of the solitary bee.
A female bee-fly collecting sand to mix with her eggs. Video © Scottish Wildlife Trust
It's important to bear in mind that the bee-fly has co-evolved with other bee species for millennia, and has not had an impact on the populations of other bees, despite the parasitisation. Just like true bees, bee-flies are valuable pollinators here in the UK. With the current decline in many insect species across the country, it is useful to help improve the understanding of these fascinating creatures to report any sightings to recording schemes. For example the BRAC Soldierflies and allies recording scheme. If you're not too sure which species you're looking at, or whether it is indeed a bee-fly, it's always helpful to take pictures.
Becca Wilson (Falls of Clyde Seasonal Ranger)
Help protect Scotland's wildlife
Our work to save Scotland's wildlife is made possible thanks to the generosity of our members and supporters.
Join today from just £3 a month to help protect the species you love.
---
Preface
Following on from last week's post on St Mark's flies, Flyday, Saturday we've spotted another fly species here at the Falls of Clyde, which has a rather interesting life-cycle. Bee-flies are …