How to collect birch sap and what to use it for
It's been a while since I've done a post about foraging but this week Reserves Manager for South Scotland – Steve Blow has been experimenting with collecting birch sap from silver birch trees on the reserve. Birch tapping involves drilling a hole into the side of a tree and guiding the flow of sap into a suitable container. Drilling a hole in a tree and bleeding it for 24hours requires a healthy specimen with a minimum trunk diameter of 25cm. The tree should also have a couple of years' rest from the last time it was tapped. The hole should be about one metre from the ground, drilled at a slightly upward angle and about 3cm deep.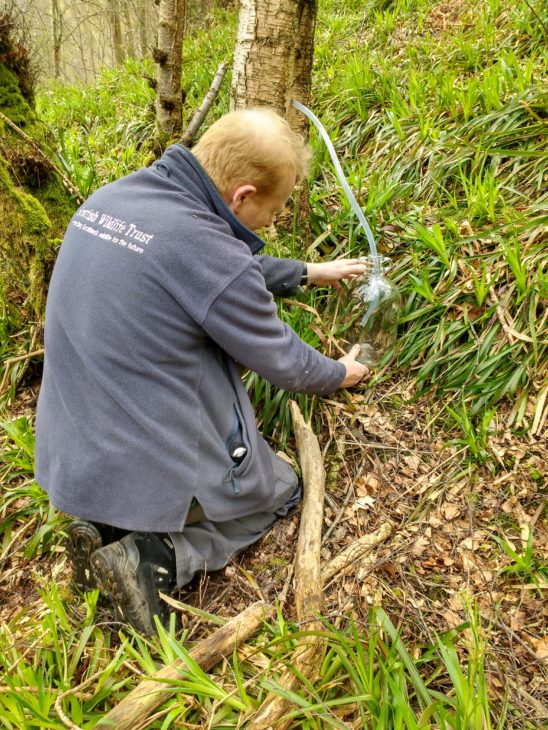 If the tree is ready, sap will pour out as soon as the drill is halfway in. If no sap appears then stop drilling, plug the wound and try another tree. If you are successful then you can leave it for a day and come back to collect the spoils. It is important to always plug the hole though, as the sap can run for several days and the tree may not survive. If you have read anything about collecting birch sap you will know most people recommend you have a spile, this is a tapered metal tube with a hole at one end, a spout at the other and a hook to hang a bucket. Once you have drilled the hole you tap the spile into place, and hang the bucket to collect the sap. As you can see from the photo, we went for the cheaper option of using a short section of hose and a demijohn (although any container will do).
If you tap at the right time, your tree could produce 5 litres in one day. The sap is just like water in its consistency and you can drink it straight from the tree. It tastes very much like water with a hint of woody sweetness. We tapped our trees right at the end of the tapping season. The best time to harvest the sap is in the month before the leaves appear, generally starting around the second week of March. Once you have your sap, it won't stay fresh long, there are a few ways you can use it – drinking it 'neat' as a tonic, reducing it down to make birch sap syrup or alternatively – making birch sap wine.
Laura Preston, Falls of Clyde Ranger
Help support our vital work and join us today!
Help protect Scotland's wildlife
Our work to save Scotland's wildlife is made possible thanks to the generosity of our members and supporters.
Join today from just £3 a month to help protect the species you love.
---
Preface
It's been a while since I've done a post about foraging but this week Reserves Manager for South Scotland – Steve Blow has been experimenting with collecting birch sap from …