Do you know which bird holds the world record for sustained flight in nature?
If you read my article last week you may have already guessed that I am quite passionate in encouraging people to spend more time outside. The Wildlife Trust's national campaign – 30 Days Wild begins tomorrow and there is still time to sign up online at www.wildlifetrusts.org/30dayswild. With all this glorious sunshine we've been experiencing these past few weeks, I hope you haven't been finding it too difficult to spend time outside. I took my own advice from last week and have spent the past few evenings watching the swifts flying over my garden.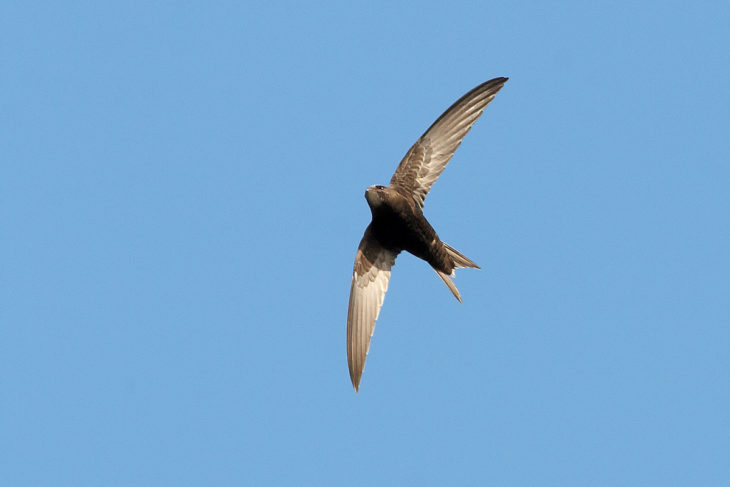 I decided I would like to learn more about these birds and after a bit of research I was disappointed to read that a third of British swifts have been lost since 1995. That is so disheartening to think that just 23 years ago the 20-odd swifts I see flying overhead would have been more like 30 back then.
The British Trust for Ornithology have been trying to find out why they have declined so much and in 2010 they attached tiny geolocators to adult swifts and then retrieved them in the summer of 2011 when the birds returned to breed. By doing this, they could reveal the migratory routes the birds follow each year.
They discovered that swifts can travel 5,000km in 5 days, travelling from West Africa back to the UK. That is just phenomenal! What is even more phenomenal is that there is evidence that adult swifts can spend an astonishing 10 months of the year on the wing, not landing once! That is a world record for sustained flight in nature. They feed, sleep and mate on the wing and they only land for two months during the breeding season, spending the night roosting in their nests.
So next time you see these birds flying overhead, just take a moment to really appreciate how amazing they really are!
Laura Preston, Falls of Clyde Ranger
Help support our vital work and join us today!
Help protect Scotland's wildlife
Our work to save Scotland's wildlife is made possible thanks to the generosity of our members and supporters.
Join today from just £3 a month to help protect the species you love.
---
Preface
If you read my article last week you may have already guessed that I am quite passionate in encouraging people to spend more time outside. The Wildlife Trust's national campaign …