How to avoid the spread of disease on your garden bird feeders
Putting food out for birds in your garden is a really beneficial thing to do to help wildlife, however with it comes a responsibility to make sure you do everything you can to help prevent the spread of disease. A collaborative study between BTO and Zoological Society of London has analysed over 25 years' worth of data to produce a comprehensive review of health risks to wild birds. Simple steps to prevent the spread of disease include offering a variety of food from accredited sources; feeding in moderation, so that feeders are typically emptied every 1–2 days; regularly cleaning bird feeders; and rotating feeding sites to avoid accumulation of waste food or bird droppings.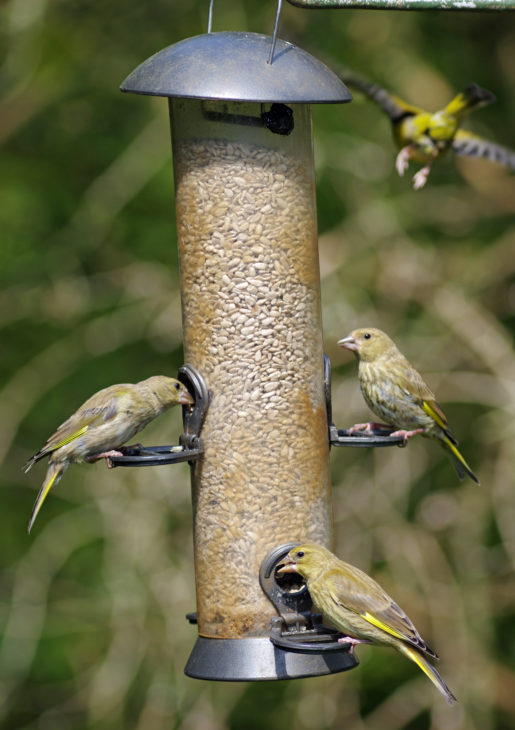 One bird in particular has suffered dramatically in the past 13 years. The greenfinch population has fallen by 35% since the disease – finch trichomonosis emerged in 2005. I remember working as a ranger in Cumbria at the time and seeing greenfinches and other finches suffering from the disease. Trichomonas is a parasite which usually causes disease at the back of the throat and gullet. Affected birds show signs of general illness – lethargy, fluffed up plumage – and may show signs of laboured breathing and difficulty swallowing.
They will often regurgitate food which they cannot swallow and this is then eaten by another individual, spreading the disease. The parasite does not survive long outside of a host and so the best thing to do is follow sensible hygiene precautions. Clean and disinfect feeders and feeding sites regularly, make sure to rinse thoroughly and air dry before re-use. Rotate the position of your bird feeders and if you do end up with an outbreak of the disease, you may want to consider stopping feeding for a time to force the birds to feed elsewhere at a lower density.
Laura Preston, Falls of Clyde Ranger
Help support our vital work and join us today!
Help protect Scotland's wildlife
Our work to save Scotland's wildlife is made possible thanks to the generosity of our members and supporters.
Join today from just £3 a month to help protect the species you love.
---
Preface
Putting food out for birds in your garden is a really beneficial thing to do to help wildlife, however with it comes a responsibility to make sure you do everything …