What do you call a group of woodpeckers and have you ever seen one?
A group of woodpeckers is called a 'descent' and it is exactly what I saw a couple of weeks ago on the reserve – five great spotted woodpeckers were calling high up in the trees above us and they proceeded to fly across a gap in the trees chasing one another before heading over the river and off into the distance.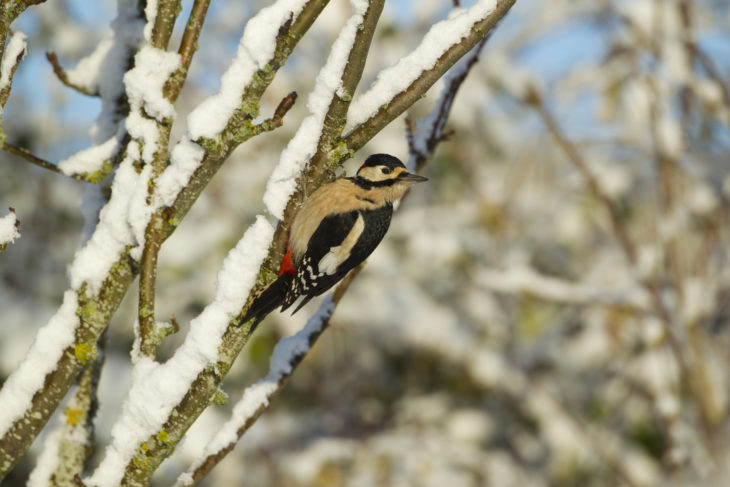 It is easy enough to distinguish the difference between males, females and juveniles. The juveniles have a red cap on the top of their head, the males have a red patch on the backs of their necks and the female just has black. If you look closely as the photo, you can just make out a little red patch on the back of this woodpeckers head, which makes it a male.
The drumming sound produced by the woodpecker relies on the correct frequency of knocks, not the force put into the knock. To make the timber resonate they have to strike the wood 10-40 times per second. Thank goodness they have shock-absorbent tissue at the base of their skull!
The latin or scientific name for the great spotted woodpecker is Dendrocopos major, "dendron" meaning tree, "kopos" meaning striking and "major" meaning great. There is also the rarer lesser spotted woodpecker which has the scientific name – Dendrocopos minor.
The oldest recorded age is 11 years 5 months and 2 days and even though these birds are rather common in woodlands across the country. Nobody really knows the average lifespan of these birds! It just shows that there are still mysteries surrounding some of our most well known British wildlife.
Next time you are out in the woods, listen out for the call of a great spotted woodpecker. I think it sounds like the squeak of a squeaky dog toy.
Laura Preston, Falls of Clyde Ranger
Help support our vital work and join us today!
Help protect Scotland's wildlife
Our work to save Scotland's wildlife is made possible thanks to the generosity of our members and supporters.
Join today from just £3 a month to help protect the species you love.
---
Preface
A group of woodpeckers is called a 'descent' and it is exactly what I saw a couple of weeks ago on the reserve – five great spotted woodpeckers were calling …