Identifying sparrowhawks part 2
Following on from last week, I wanted to talk more about sparrowhawks. There is a reason that they are the most common bird of prey to visit your garden and that is because their main food source are small birds. Sparrowhawks will catch these small birds by taking them from wherever they may be perching, which is why bird feeding stations are such a good place from them to find a meal! Some people have suggested that as the sparrowhawk population has recovered, this has brought about declines in many small bird populations, however these suggestions are not supported by the available scientific evidence.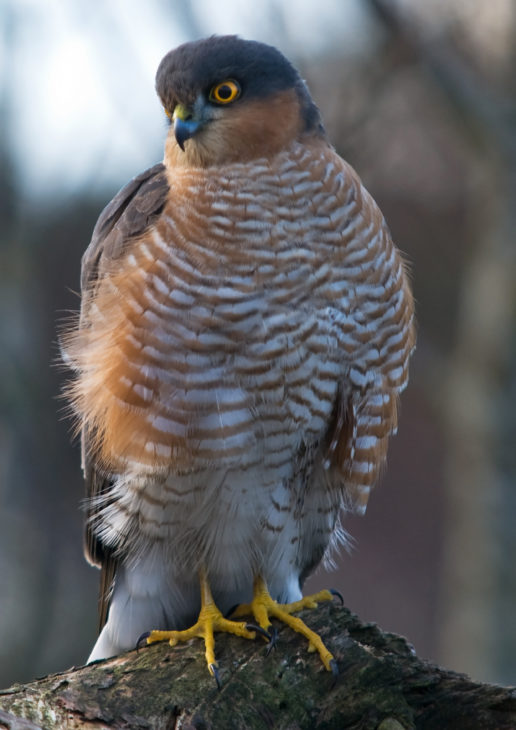 If you suspect a sparrowhawk in your garden because you have seen the remains of a bird, it is worth noting that sparrowhawks pluck the breast feathers from their prey (usually preferring a 'plucking stool'), so you may find a scattering of feathers in your garden. Because these feathers are plucked, the shaft along the feather will be split (where the hawk's beak has grabbed the feather). Foxes and cats bite off the feathers so the shaft will be incomplete, with a broken end. To reduce the likelihood of sparrowhawks successfully catching dinner from your bird feeding station, it is a good idea to regularly move it around the garden and to keep it close to cover (e.g. hedgerow).
I was interested to learn that eye colour in sparrowhawks changes with age. Upon hatching, their iris is a brownish-black colour and within a few months it becomes a pale lemon-yellow colour. As the birds age, the iris goes from yellow to orange and, in some adult males, wine red. So, if you get a good look at a sparrowhawk, not only can you tell whether it is a male or female, you will also be able to tell roughly how old it is!
Laura Preston, Falls of Clyde Ranger
Help support our vital work and join us today!
Help protect Scotland's wildlife
Our work to save Scotland's wildlife is made possible thanks to the generosity of our members and supporters.
Join today from just £3 a month to help protect the species you love.
---
Preface
Following on from last week, I wanted to talk more about sparrowhawks. There is a reason that they are the most common bird of prey to visit your garden and …