What are King Alfred's Cakes?
On Sunday evening I managed to catch the end of Countryfile and they had a gentleman on the show talking about King Alfred's Cakes. The name King Alfred's Cakes is said to come from the time when King Alfred was hiding from the Danes, he was given shelter by a peasant woman and he had promised to keep an eye on her cakes. As it was, he forgot all about them (probably preoccupied by those pesky Danes) and they subsequently burned. It is said he then scattered them throughout the forest to hide his mistake!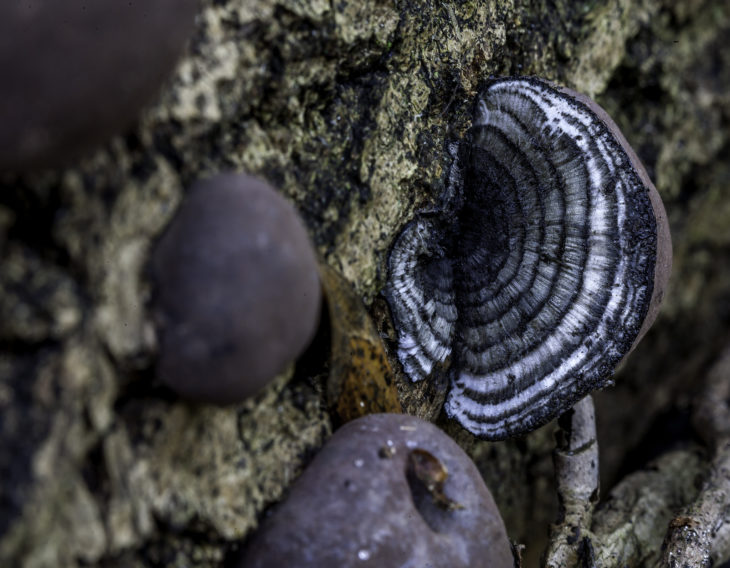 This fungus can be found primarily on beech or ash, but I also found some earlier in the week on a birch tree. They're very distinctive – looking like lumps of smooth charcoal and can be found in clusters along the trunk or branches. They can be brown or black in colour and when broken they reveal a silver and black rings inside. The rings are similar to growth rings on a tree and each concentric circle represents a year's growth. This also explain where the Latin name comes from – Daldinia concentrica.
These fungi aren't edible but the black ones you see are ideal for starting fires. Using a fire steel you can drop a spark on to the inside surface and if you are successful you will see a small orange glow begin to form and spread throughout the fungus, similar to a charcoal briquette. They can smoulder for a long time and it is said that our ancestors used to use this fungi to transport their fire when travelling around. They could keep it on them along with some dry tinder, and know they would always be able to create a fire, even in the most undesirable weather conditions with no dry wood available.
Laura Preston, Falls of Clyde Ranger
Help support our vital work and join us today!
Help protect Scotland's wildlife
Our work to save Scotland's wildlife is made possible thanks to the generosity of our members and supporters.
Join today from just £3 a month to help protect the species you love.
---
Preface
On Sunday evening I managed to catch the end of Countryfile and they had a gentleman on the show talking about King Alfred's Cakes. The name King Alfred's Cakes is …