A new species record at Falls of Clyde – Long-eared owl!
Whilst out with the volunteers this week we had a rather interesting discovery; nestled under a large Douglas fir tree we spotted a dead long-eared owl. Having never seen one before I was surprised at how big it was, but it is in fact smaller than our more commonly heard and seen tawny owl. A long-eared owl is around 35cm in length and has a wingspan of approximately 90cm, whereas tawny owls are longer at around 40cm although with a similar wingspan.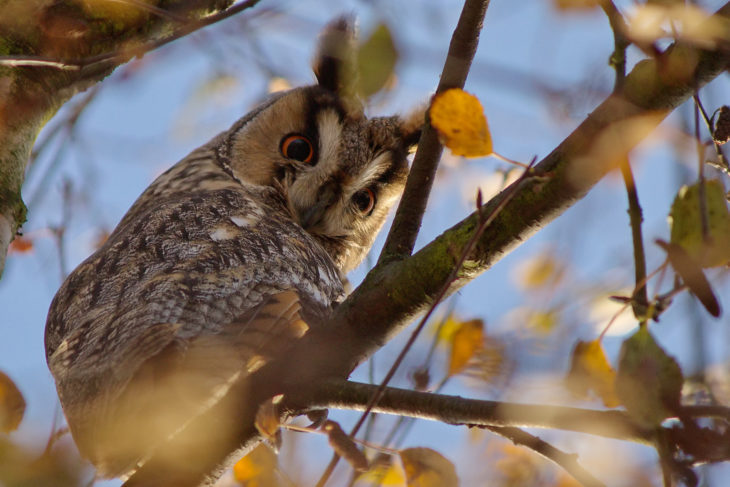 Like most owls, long-eared owls are nocturnal and hunt under the cover of darkness eating small mammals such as voles and mice. They breed in forests in the vicinity of open countryside where they can go to hunt. Long-eared owls that live in the northernmost part of their range in northern Scandinavia and Russia will migrate southwards during the winter to find food. Out of the breeding season they will often roost together at night in groups or 'parliaments of owls'.
In optimum habitats, they are not scarce although sadly their numbers are declining. Being very secretive breeders it is very difficult to find them, so it is hard to really know how many there are and what their distribution is. However less of them are being recorded overall.
They tend not to build their own nests, instead favouring old nests of other species such as magpies and crows. Newly fledged young make a 'squeaky gate' call when pestering their parents for food, while the adults breeding song is a series of deep 'hoo' sounds. For such a large bird, they have a surprisingly short life span of only four years. The bird we found may have come over from Scandinavia for the winter or it could have been a year round resident. Either way, I'm happy to report, it looked very much as if it died of natural causes.
Laura Preston, Falls of Clyde Ranger
Help support our vital work and 
join us
 today!
Help protect Scotland's wildlife
Our work to save Scotland's wildlife is made possible thanks to the generosity of our members and supporters.
Join today from just £3 a month to help protect the species you love.
---
Preface
Whilst out with the volunteers this week we had a rather interesting discovery; nestled under a large Douglas fir tree we spotted a dead long-eared owl. Having never seen one …