Falls of Clyde Highlight of the week: Mushrooms
Mushroom season has begun. In general this has been a good year for foraging mushrooms since it has been very wet – the kind of weather the fungi loves.
I find foraging for mushrooms calming. I used to think it was boring because I didn't have the patience. Now that I've been doing it for some time I enjoy it more. I know what mushrooms are edible and it makes it so much more fun.
When foraging for mushrooms you should always bring a book that has all different kinds of mushrooms. It is very important that if you have no experience in mushroom foraging you are a 100 percent sure that you have the same mushroom as the one you think it is from your book. Some mushrooms look very similar. When you identify a mushroom the books you can get for this purpose has often got the similar mushrooms written down. Sometimes similar mushrooms are all edible and sometimes there will be a mushroom it can be mistaken for that are poisonous. So always be careful!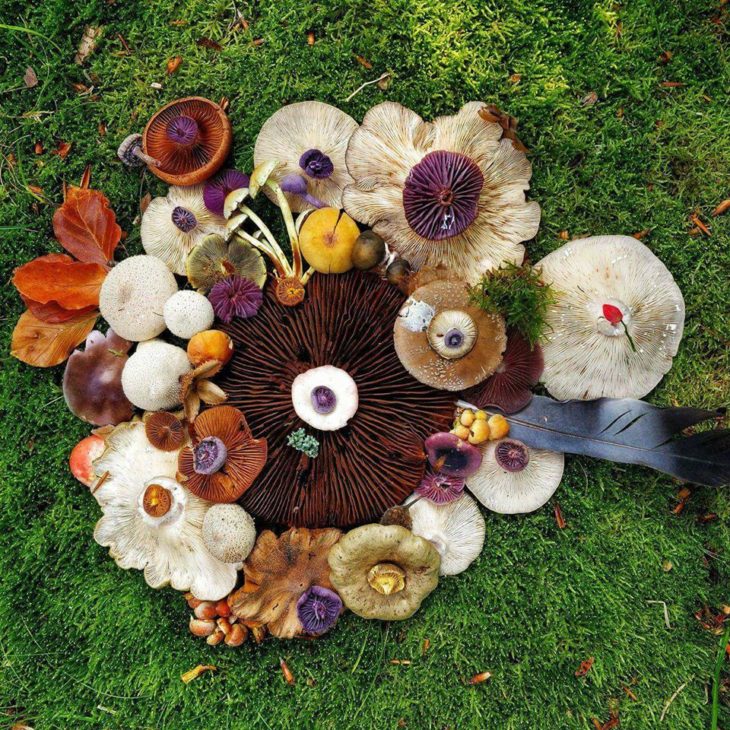 The mushrooms that I've spotted and identified in Falls of Clyde so far:
English-Latin-Danish (Edible/Poisonous)
Penny Bun – Boletus edulis – Karl Johan (Edible)
In August and September most often seen in deciduous forest and in October and November seen in both diciduous and coniferous forests.
Wood Ear – Auricularia auricula-judae – Judas øre (Edible) my favorite one because it is so funny to touch.
Can be found on the stems of Eldertrees.
Rough-stemmed bolete – Leccinum scabrum – Birke skælrørhat (Edible)
Always grows under a Birch whether it is forest, gardens or parks.
Common earthball – Scleroderma citrinum – Almindelig bruskbold (Poisonous)
Grows under hardwood trees often on peatland.
Milk-caps – Lactarius – Mælkehat (Edible)
Likes sandy ground and grows under softwood.
Hedgehog Mushroom – Hydnum Repandum – Pigsvamp (Edible)
Is most often seen in small groups in woods that has got beach or in coniferous forest that has a lot of moss.
Common Stinkhorn – Phallus impudicus – Almindelig stinksvamp (Poisonous)
It can grow in all woods but likes nutrisious grounds. You can often smell if there is one near you.
Fly agaric – Aminata muscaria – Fluesvamp (Poisonous)
Can be found everywhere.
Bay bolete – Boletus Badius – Brunstokket rørhat (Edible)
In all kinds of coniferous forest. Most often around a tree stump but can be found in both light and dark places in the forest.
You will notice that most of them are edible. I tend to forget the non-edible ones because they don't really matter to me much. The edible ones are funnier because, obviously, you get to enjoy them in your food. There are much more mushrooms in the reserve and I'm sure there are more edible ones too that I haven't found yet. Most of the mushrooms I see are ones that I don't know but I'm trying to learn more and more of them.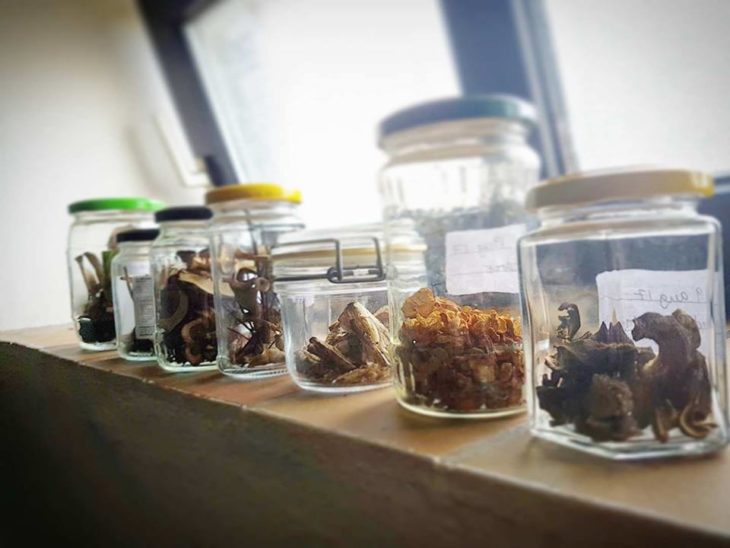 Most mushrooms are good just roasted in butter and enjoyed with a piece of rye bread. That is how I eat them back in Denmark anyway. However, there are so many good recipes online. A quick search on Google and you've got yourself a dinner. I always enjoy the ones that has some kind of creamy sauce and pasta.
If you picked so many mushrooms that you can't eat them all or just don't feel like having mushrooms for dinner how about drying them? It's easy but takes a while. You can either do it in a dehydrator or in your oven on low heat for about 4-6 hours. You can also just leave them out on a dishtowel on top of a wire grill. Before you put them into a jar you should make sure that they are proper dry otherwise your mushrooms will grow mushrooms… the bad kind. They should be crisp when you put them in a jar. The jar needs to be sealed so no air will come in and you need to store it in a dark space. In theory they should be good for another couple of years as long as the jar is kept sealed.
Note that I am not an expert. You need to make sure you know exactly what type of mushroom you're eating. If you make a dish with mushrooms make sure to save just one. In case you get sick the doctor will know what mushroom you ate and hopefully what to do about it.
Happy foraging!
Carina Marcussen –  Volunteer Assistant Ranger, Scottish Wildlife Trust
Help support our vital work and join us today!
Follow this link and see how important fungi is to our ecosystem: Let's show a bit more respect to fungi!
Help protect Scotland's wildlife
Our work to save Scotland's wildlife is made possible thanks to the generosity of our members and supporters.
Join today from just £3 a month to help protect the species you love.
---
Preface
Mushroom season has begun. In general this has been a good year for foraging mushrooms since it has been very wet – the kind of weather the fungi loves. I …