Identifying worn and faded bumblebees is never easy
Back from my holidays I was not surprised to hear that there had been a nuthatch spotted on the reserve! It seems, they come out when I am not around. If you will remember back to 2015, my seasonal ranger, Adam Jones spotted a nuthatch one summer day while I was away on holiday. Last year my seasonal ranger Sarah spotted one and this year it was Mike's turn. Maybe I need to change my job title! I don't mind too much though, I've seen them all over the place and when I do see them here, it will be a moment to remember.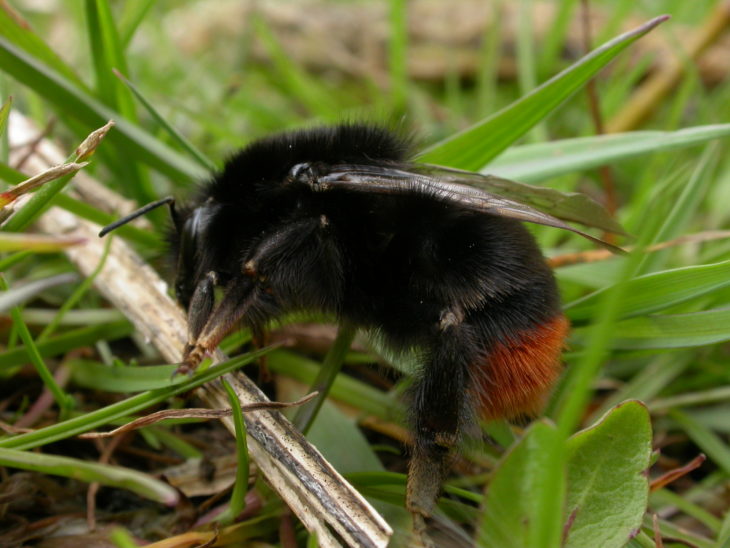 While I was away in the north of Scotland, I saw all sorts of wildlife including ospreys, puffins and lots of dragonflies. However one species I did want to see was the great yellow bumblebee. At one time this bumblebee could be seen across the UK but now it is confined to the Outer Hebrides and the north and north east coast of Scotland. Sadly I did not manage to see it this time around but I will definitely be trying again soon.
At this time of year our bumblebees are making it a bit more difficult for us to identify them. We now have males, workers and queens on the wing and some of these individuals are starting to become worn and faded as summer progresses. The red-tailed bumblebee ends up having a more gingery or pale orange tail and common carders that are normally quite orangey can become very blonde. Forest cuckoo bees can also cause confusion with our social white-tailed species like the garden bumblebee and white-tailed bumblebee. The thing to remember is that upon closer inspection, the forest cuckoo bee has a tail tip which is actually black with a small fringe of red hairs.
Laura Preston, Falls of Clyde Ranger
Help support our vital work and join us today!
Help protect Scotland's wildlife
Our work to save Scotland's wildlife is made possible thanks to the generosity of our members and supporters.
Join today from just £3 a month to help protect the species you love.
---
Preface
Back from my holidays I was not surprised to hear that there had been a nuthatch spotted on the reserve! It seems, they come out when I am not around. …