Heavy rain last week made for a miserable few days for our osprey chicks. Unable to take cover in a sheltered perch, they spent a few days hunkered down in the nest trying to stay warm.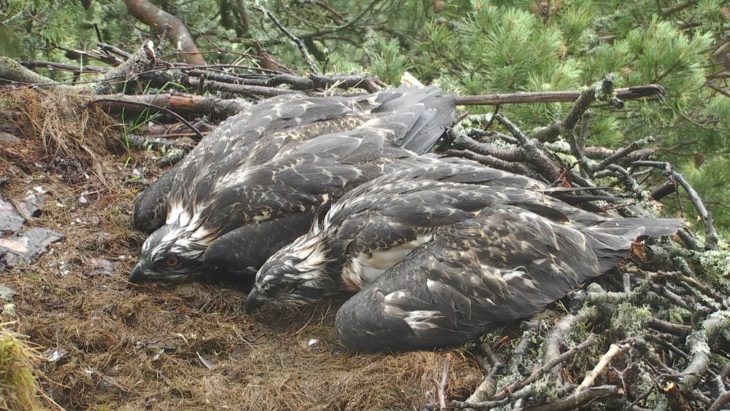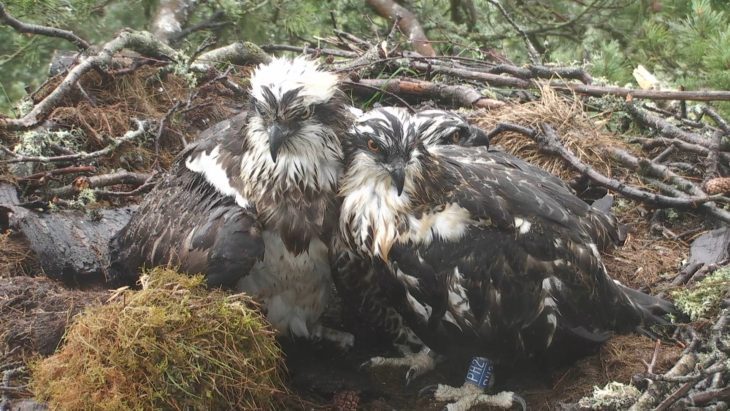 Heavy rain can make it difficult for ospreys to fish but LM12 brought in enough food to get his family through the wet spell and the weather has cleared up now, making life much more comfortable for the chicks.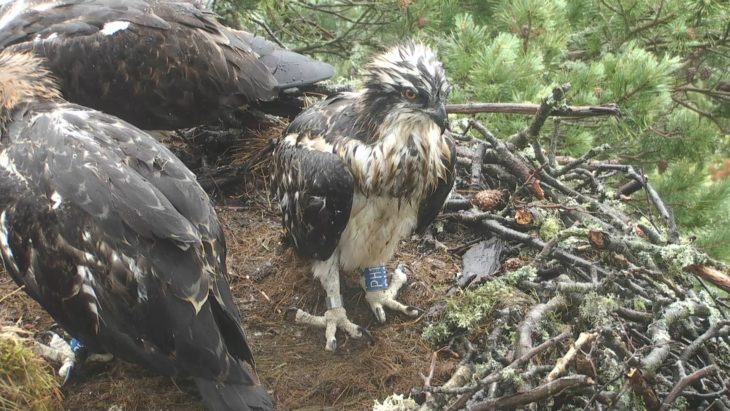 Now that the chicks are about 7 weeks old we have been starting to see a lot of pre-fledging behaviour. They have been stretching their wings a lot and sometimes lifting off the nest a few inches while flapping.
Ospreys tend to take their first flight about 50-56 days old1. The older chick (PH2) is now 51 days old and the younger (PH1) is 46 days old. However, females tend to be heavier and so lighter males will often fledge before their sisters. It is hard to say who will make the leap first as the male (PH1) is a full five days younger.
Will be watching anxiously to see them back at the nest after their first maiden flight! The first flight will probably only be for a few minutes but soon they will be strong enough to go on more adventurous flights around the nest site.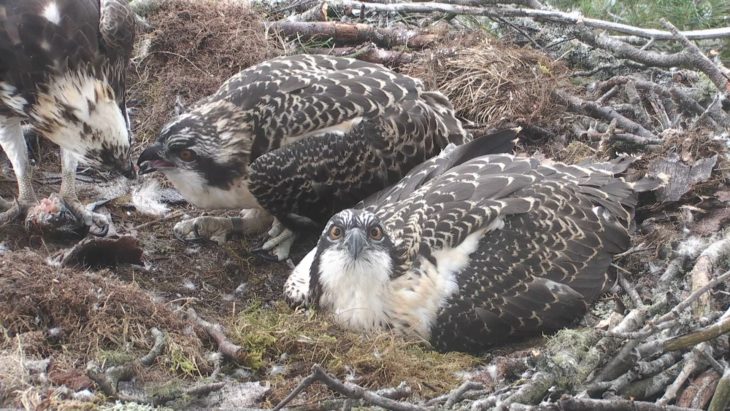 In other news, while the ranger team was down at the Tummel shingle islands this afternoon we saw an osprey fishing in the Tummel River. We don't think it was LM12 but it was still lovely to see. So after three months at Lowes – two of those on Osprey Watch – I finally saw an osprey fishing!
Keep an eye on our webcam for we might have someone fledging in the next few days…
Jane Hamilton
Dennis, R. 2008. A Life of Ospreys. Chapter 5: The breeding and ecology of the osprey.
Help protect Scotland's wildlife
Our work to save Scotland's wildlife is made possible thanks to the generosity of our members and supporters.
Join today from just £3 a month to help protect the species you love.
---
Preface
Heavy rain last week made for a miserable few days for our osprey chicks. Unable to take cover in a sheltered perch, they spent a few days hunkered down in …