Did you know a blue tit chick needs around 100 caterpillars every day?
The reserve seems full of chicks at the moment. Every nest box I visit seems bustling with noise and tired parents whizzing back and forth with food. Did you know a blue tit chick needs around 100 caterpillars every day? Also, a blue tit nest can contain on average 10 eggs, that's a thousand caterpillars every day! It's not too bad though, each parent only needs to find 500 of the wee beasties to keep their chicks happy.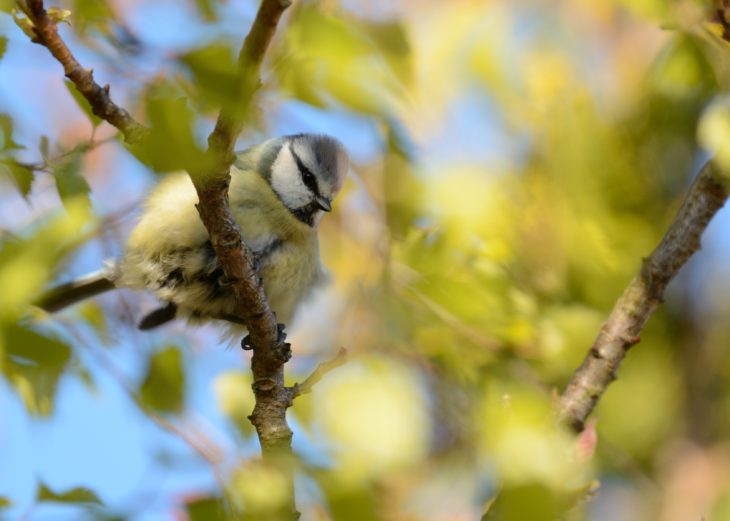 You might be surprised at the number of caterpillars readily available in the environment however the majority will be found up in the tree canopy, far from where we can see them. It's amazing to think that it only takes around 20 days for the chicks to fledge. 10 eggs, 20 days and 20,000 caterpillars later, you have 10 healthy blue tits!
Not all birds nest in nest boxes and I found two such nests over the weekend. One from a great spotted woodpecker and one from a chaffinch. The great spotted woodpecker chicks must be near fledging as they are incredibly noisy at the moment. The noisier chicks are the closer they will be to fledging. I saw one of the parents coming in to feed the chicks as well. It will be lovely to watch them over the next few days, who knows I might get to see them fledge.
This brings about an important point, many folks often tell me that when they're out and about they don't see much wildlife. I do think it takes a while to get your eye in. At this time of year it's good to keep a look out for adult birds with food in their beaks. If they are carrying food you know they will be going back to a nest. Just be patient and keep well back, you don't want to disturb them from feeding their young.
Laura Preston, Falls of Clyde Ranger
Help support our vital work and join us today!
Help protect Scotland's wildlife
Our work to save Scotland's wildlife is made possible thanks to the generosity of our members and supporters.
Join today from just £3 a month to help protect the species you love.
---
Preface
The reserve seems full of chicks at the moment. Every nest box I visit seems bustling with noise and tired parents whizzing back and forth with food. Did you know …