As part of a new and exciting partnership between the charity Scottish Badgers and the Scottish Wildlife Trust we have been running Mammal Roadshows throughout South Lanarkshire schools to give 1,000 children the opportunity to learn about badgers and other mammals on their doorstep!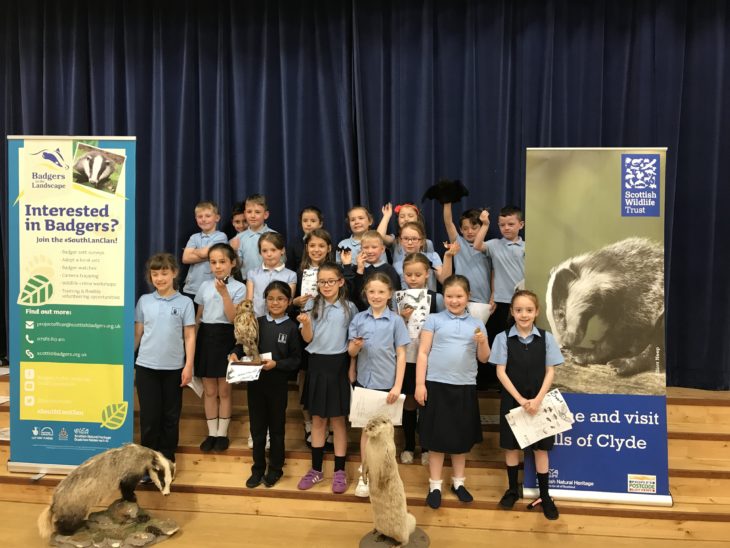 Primary and nursery children from 3-11 years have welcomed us to their schools, eagerly attending our mini workshops to learn about badgers, bats, otters and owls.
It's a truly wonderful experience seeing a child's face light up at the sight of a secret skull found in an owl pellet, their reaction to the smell of otter poo, or the realisation that a bat's wing is not that different from a human hand.
Best of all is the knowledge that these little minds are inspired. Our next generation want to make a difference and go away armed with ideas on how they can help their local wildlife, like being badger detectives and reporting anything suspicious around their local setts, encouraging bats (and moths) to their garden with night scented flowers or putting up bird boxes around their School.
Everyone likes some praise and feedback from children and teachers has been glowing. Teachers consistently reported that "children thoroughly enjoyed the hands on experience". Favourite moments from the children were "being wrapped up in bubble wrap " to feel what an otters fur would be like and "solving the crime scene" at the badger workshop.
Each class we visited has elected an Animal Ambassador (these elections turned out to be rather competitive within the classroom!) whose role will be to discover more and inspire their friends and family. Already mini groups are forming around the ambassador leaders and their nature loving friends.  As an educator and someone who has a genuine care for the environment,  what more could you ask for?  That's what it's all about and why I love my job!
Lyndsay Mark – Visitor Experience Manager
Help support our vital work and join us today!
Help protect Scotland's wildlife
Our work to save Scotland's wildlife is made possible thanks to the generosity of our members and supporters.
Join today from just £3 a month to help protect the species you love.
---
Preface
As part of a new and exciting partnership between the charity Scottish Badgers and the Scottish Wildlife Trust we have been running Mammal Roadshows throughout South Lanarkshire schools to give …