Falls of Clyde Recent Sightings – 3-9 April 2017
Hello everyone,
So then this week has been another excellent week for sightings on the reserve. I think the big thing to note is that while completing my butterfly transect as the weather was finally warm enough, I managed to note two comma butterflies which is amazing.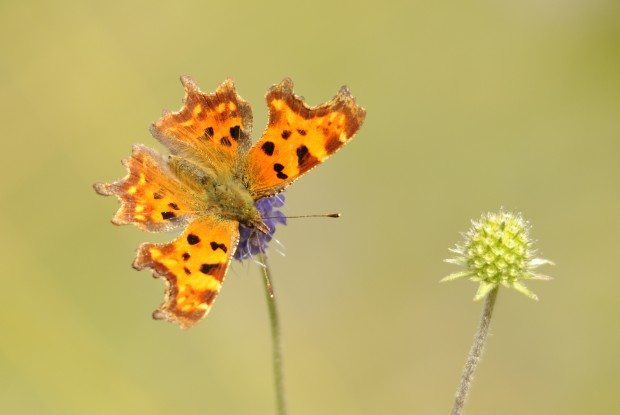 For invertebrates I managed to get out and do some more moth trapping in which I recorded nine Hebrew characters, four brindled pugs, one mottled gray, three twin spotted quaker and two common quaker which is a good number considering the use of a homemade moth trap.
So moving onto mammals now we have sightings of four grey squirrel dotted around the reserve and also three roe deer which can usually be found along the blue route.
For our plant sightings we have wood anemone, dandelion, great wood rush, lesser celandine, marsh marigold, dogs mercury, cuckoo flower, alternate leaved golden saxifrage, opposite leaved golden saxifrage, common dog violet, blackthorn, wood sorrel and finally moschatel are all out.
Next our bird sightings, where we have had three raven flying in and around the gorge. There have also been sightings of a pair of jay flying in our woodland. Another duo that we have recorded is a pair of oystercatcher on the meadow. We have also heard willow warbler, chiffchaff, yellowhammer, mistle thrush, dipper and grey wagtail. We have also heard both barn owl and tawny owl which is great.
Finally to our last part where we will report what has been sighted near the reserve. There has been a willow warbler reported singing and also a green sandpiper at Barons Haugh, Two black-tailed godwits still at Carbarns Pool. An adult little gull has been spotted at Strathclyde Loch; also at least one drake scaup. On the last note there has been a flock of 205 golden plover at Shieldhill Farm, near Bennan Loch, a large count for the area!
Feel free to send in your local sightings to fallsofclyde@scottishwildlifetrust.org.uk.
Mike Butler – Falls of Clyde Seasonal Ranger, Scottish Wildlife Trust
Help support our vital work and join us today!
Help protect Scotland's wildlife
Our work to save Scotland's wildlife is made possible thanks to the generosity of our members and supporters.
Join today from just £3 a month to help protect the species you love.
---
Preface
Hello everyone, So then this week has been another excellent week for sightings on the reserve. I think the big thing to note is that while completing my butterfly transect …