Falls of Clyde Recent Sightings 26th May-1st June
Hi,
In the final week of peregrine watch the falcon pair was frequently seen sheltering from heavy rain showers. Another new nest was found high up on the cliff face, on this occasion it was a mallard that was observed scraping a bowl within thick vegetation (29th). If the mallard does manage to hatch young they will certainly have an interesting first day.
The boardwalk continued to be a great area for a spot of botanising with bugle, sanicle and pignut in full bloom. The ranger team also had further success finding rare plants on the reserve with early purple orchid and hairy bittercress confirmed as still present on the reserve.
Peacock, green-veined white and orange-tip butterfly were still on the wing around Bonnington Pavilion and large red damselfly continued to emerge in the tree nursery pond.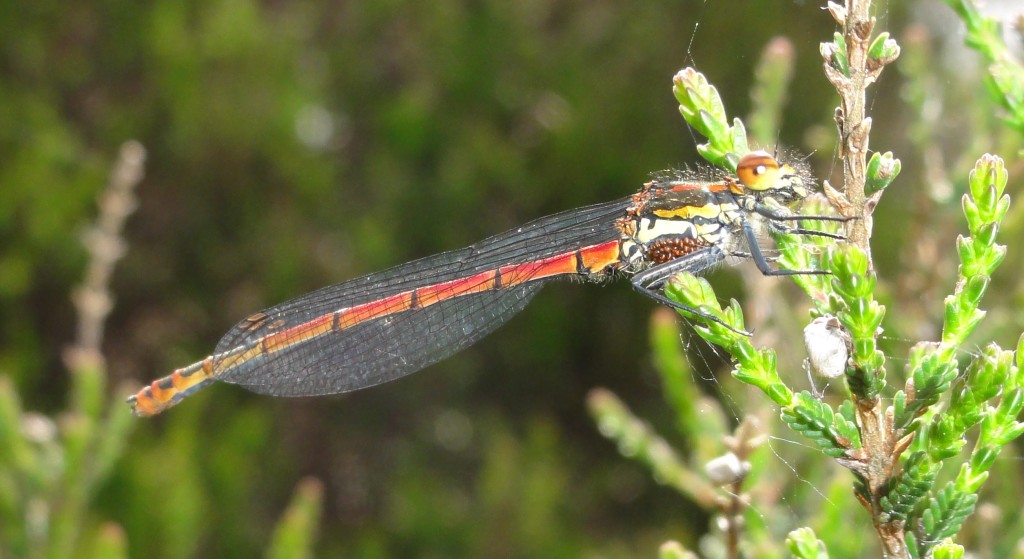 Adult large red damselfly continued to emerge from the tree nursery pond (C) Adam Jones
A badger watch undertaken during the week produced superb views of a young badger as well as a female fox with three cubs.
Other interesting sightings included, 1x common buzzard (Bonnington Pavilion, daily), 1x spotted flycatcher (singing between Bonnington Linn and the Haha, 29th), 1x jay (Peregrine Watch, regular), 1x raven (Bonnington Pavilion, regular), long-tailed tit (daily, powerstation) and 2x bullfinch (Mid Lode, daily).
Adam Jones – Scottish Wildlife Trust, Falls of Clyde Seasonal Ranger
Help support our vital work and join us today!
Help protect Scotland's wildlife
Our work to save Scotland's wildlife is made possible thanks to the generosity of our members and supporters.
Join today from just £3 a month to help protect the species you love.
---
Preface
Hi, In the final week of peregrine watch the falcon pair was frequently seen sheltering from heavy rain showers. Another new nest was found high up on the cliff face, …