Like the staff and volunteers at Loch of the Lowes, I'm sure the regular webcam viewers amongst you will have been equally relieved to see the pair back at the nest this morning. Over the Easter weekend the female seemed to be showing little interest in the male, and was instead spending a worrying amount of time away from the nest favouring a spot in another tree on the reserve. I was anxiously checking the webcam myself last night, and was beginning to get concerned by her sudden lack of interest following such a positive start from her arrival. Thankfully, the pair now appear to be back on track with at least four mating attempts this morning! As I write, the male is busy digging out the nest cup, so fingers crossed they settle back into a more regular routine.
Elsewhere on the reserve, we have a wonderful variety of woodland birds that are also in the midst of their breeding season. Our male Yellowhammers are looking particularly attractive with their bright lemon yellow head and breast. Their lovely, well known song can be heard loud and clear around the woods …' A little bit of bread and no cheese' delivered in a high buzzy tone…..'chi chi chi chi chi chi chi chi cheezze' . The "cheese" note is lower in tone than all of the other notes…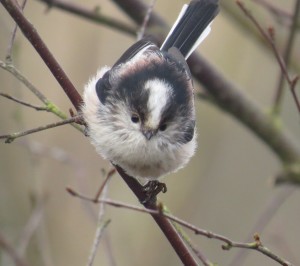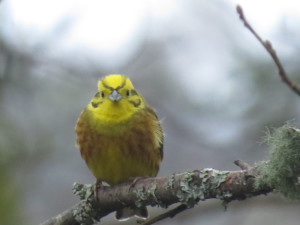 You might also be lucky enough to catch a glimpse of a group or 'volery' of long-tailed tits. These beautiful birds are regularly seen dancing around the long silver birch branches, nimbly picking off insects as they go. They are also busy collecting material for their nest, which they make out of moss and spider webs, camouflaged with lichens and lined with approximately 2000 feathers. Listen out for their distinctive social call – a sharp 'tsurp' repeated several times – a sure indication of a group nearby!
Charlotte,
Perthshire Ranger
Help protect Scotland's wildlife
Our work to save Scotland's wildlife is made possible thanks to the generosity of our members and supporters.
Join today from just £3 a month to help protect the species you love.
---
Preface
Like the staff and volunteers at Loch of the Lowes, I'm sure the regular webcam viewers amongst you will have been equally relieved to see the pair back at the …