Did you know – Moles dig tunnels over 70m in length!
Over the past few weeks I have been noticing a lot of molehills, now whether this is because they are more obvious in the snow or the moles are more active at this time of year, I'm not sure!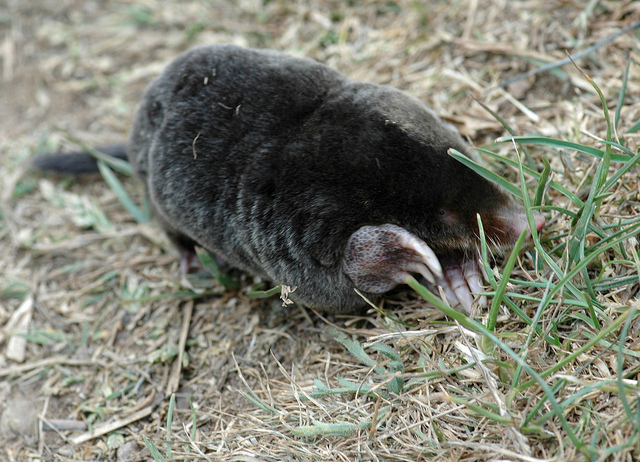 What I do know is that the best time for worms is autumn and winter and when there are lots of worms around. Moles will bite off their heads and store them in little underground worm larders. Here at the Falls of Clyde, the moles have to compete with our badgers who not only share the same primary food source but they are also a formidable predator to the wee mole.
Moles continuously search for food, running along their network of tunnels, which can often reach lengths of over 70m and can vary in depth from just under the surface to up to 70cm deep. Whilst running through their tunnels and digging news ones, earthworms, beetle larvae, slugs etc. will fall from the walls and be gobbled up by the mole. It's very clever really; making a trap for them to fall into and being able to hoover them up as you go!
At this time of year you are unlikely to see them, in the colder weather they tend to burrow deeper, so it is odd that I have seen lots of molehills on the reserve. Maybe it is because the badgers are sleeping a lot more, the moles feel safer! The best time to see them is in the summer when the young moles are looking for their own territory. They will come above ground as it is easier to travel longer distances. They will generally do this at night but will sometimes come out during the day.
Laura Preston – Scottish Wildlife Trust, Falls of Clyde Ranger
Help support our vital work and join us today!
Help protect Scotland's wildlife
Our work to save Scotland's wildlife is made possible thanks to the generosity of our members and supporters.
Join today from just £3 a month to help protect the species you love.
---
Preface
Over the past few weeks I have been noticing a lot of molehills, now whether this is because they are more obvious in the snow or the moles are more …