Wildlife Diary 22nd August
There is a real taste of autumn in the air here in the highlands despite it still being August. The nights are decidedly chilly and  the sound of geese arriving is filling the air. They local Canada goose population has started congregating on the lochs (today's count 180) and they will soon be joined by other wildfowl arriving from the north. Loch of the Lowes will host many artic breeding species such as Tufted and Goldeneye ducks and Pinkfoot and Greylag geese for the winter.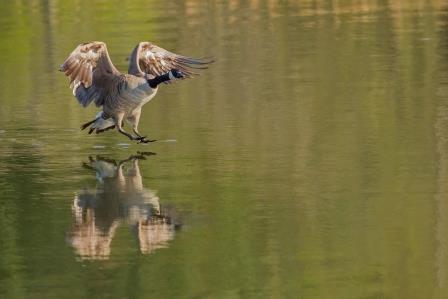 I was asked last week why I described our ospreys as having left on "Autumn" migration, when it's still summer. Many of our migratory species actually begin to move on migration  as soon as the summer business of rearing a family is over, and spend more than half the year in their non breeding areas. Perhaps rather than wintering grounds, we should refer to these destinations as the "off duty zones".
The last confirmed sighting of our male osprey was last Saturday the 16th on flat top tree. Since then there have been no appearances by the birds at the nest, though there have been visiting birds dropping into the loch and sitting on some of the further perches- including one today on Skeleton tree.
Our woodlands are busy with fallow deer with young calves at foot- the females often choose the quiet woods around the visitor centre to have their calves and keep them safe for the first few weeks, before joining the larger herd come the autumn.
Lastly, a note about our Blogs. Now that the osprey season is over, there is still lots to see and do on our Perthshire reserves, so we will keep the blog up to date twice a  week during autumn. Over the winter ( October to February) we will be on skeleton staffing so this will be just once a week -but don't worry, if anything extra exciting happens we will let you know. Thanks for all your kind comments about the blog and the incredibly supportive feedback we've had about it- its been much appreciated. Don't forget you can still send your osprey questions to: ospreys@scottishwildlifetrust.org.uk
Ranger Emma
Help protect Scotland's wildlife
Our work to save Scotland's wildlife is made possible thanks to the generosity of our members and supporters.
Join today from just £3 a month to help protect the species you love.
---
Preface
There is a real taste of autumn in the air here in the highlands despite it still being August. The nights are decidedly chilly and  the sound of geese arriving …