What to do If you find a bee nest in your house
Summer is the perfect time to spot a wide variety of insects with dragonflies darting over streams and rivers, hoverflies and butterflies exploring different flowers, and many others flying, crawling, hopping and calling throughout the day. This summer has also provided plenty of weather for bees, with plenty of flowers to gather nectar and new queens starting up colonies in suitable sheltered spots. But would should you do if you discover a bees' nest in your house? We have had a number of calls about this issue over the past few months so hopefully this can provide some help!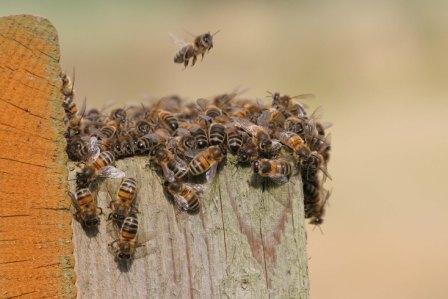 Firstly make sure it is a colony of bees and not wasps, from a distance you could mistake a swarm of wasps for honey bees. Secondly do not destroy the nest or use any pesticides! Bees are a valuable pollinators and pest control companies will not destroy bee nests. If it is a honey bee hive then you should get in contact with your local bee keeper association and they will put you in contact with local beekeepers who may be able to remove the colony for you or advise you on what to do.
If it is a bumblebee nest the best course of action is to leave it alone. Bumblebee nests are a rare find so consider yourself extremely lucky to have come across one and should not be moved! If you believe the nest is in danger and the only option available is to move it advice can be found here: http://bumblebeeconservation.org/about-bees/faqs/moving-bumblebee-nests
If you find a lone bee on the ground or in your house that looks exhausted try moving it somewhere safe outside and giving it a solution of sugar and water.  This may well save it and provide it with enough energy to return to its nest. Do NOT give it honey as this can contain traces of viruses from wild bees! There are plenty of resources online so always do your research when dealing with any species of bee.
Bye for now!
Alex Kekewich – Falls of Clyde Seasonal Ranger
Help protect Scotland's wildlife
Our work to save Scotland's wildlife is made possible thanks to the generosity of our members and supporters.
Join today from just £3 a month to help protect the species you love.
---
Preface
Summer is the perfect time to spot a wide variety of insects with dragonflies darting over streams and rivers, hoverflies and butterflies exploring different flowers, and many others flying, crawling, …