We've all gone batty at Loch of the Lowes – Part 2! 25th August
Here at Lowes we have been busy surveying our buildings for bat roosts, and also monitoring our bat boxes which are located around the reserve. So far we have found several Soprano pipistrelle roosts, and are delighted to see that some of our bat boxes are also currently in use!
Different bat species will use different structures in which to roost. Soprano and common pipistrelles are crevice dwellers, and are most commonly found roosting in buildings, either underneath tiles, in the wall head, or in between cavity walls. Brown long-eared bats will also roost in buildings but they are attic dwellers and need a large, open attic space to carry out a warm up flight before leaving to feed. Other species such as the Daubenton's bat prefer roosting in cracks in masonry and due to their feeding habits above water, are commonly found in old stone bridges over canals. Crevices in old trees make perfect roosts for our more rare species including the Noctule and Natterers' bat, so keep an eye out when you're next on an evening woodland walk!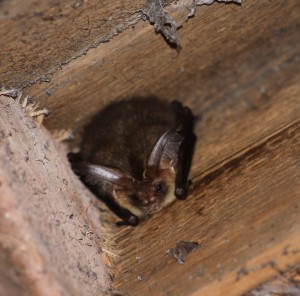 All British bats and their roosts are legally protected due to the dramatic population declines seen in the last century. Like many other native species, the removal of trees and hedgerows for construction, and the intensification of agricultural practices have had a massive impact of their numbers by destroying many of their roosting and feeding sites. Whilst conservation groups such as the Bat Conservation Trust are working hard to reverse this trend, there are many simple ways in which you can help bats in your local area too. Gardens, no matter what size, can be a wonderful place for wildlife. Here are a few simple ideas to encourage more bats into your garden –
– aim to plant a mixture of flowering plants, shrubs and trees to encourage a diversity of insects, which in turn should attract different bat species.
– make a compost heap or log pile using recycled kitchen and garden waste – this will create an ideal habitat for a  range of insects.
– put up a bat box. There is a variety of designs available – some can be a great project to make at home, others can be bought on a range of budgets. Designs and instructions for making your own bat box can be found at www.bats.org.uk.
Tonight is National Bat Night, and if you would like to join us and find out more about these fantastic animals we still have spaces on our celebratory bat walk event. There will be an illustrated talk, a range of craft activities suitable for children of all ages, and a guided walk where you can try your hand at bat detecting. Booking for this event is essential, so please call 01350 727 337 to book or for any further information.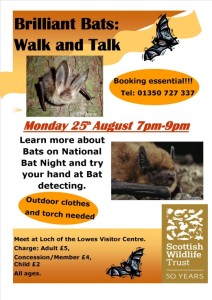 Charlotte Fleming, Volunteer Assistant Ranger.
Help protect Scotland's wildlife
Our work to save Scotland's wildlife is made possible thanks to the generosity of our members and supporters.
Join today from just £3 a month to help protect the species you love.
---
Preface
Here at Lowes we have been busy surveying our buildings for bat roosts, and also monitoring our bat boxes which are located around the reserve. So far we have found …