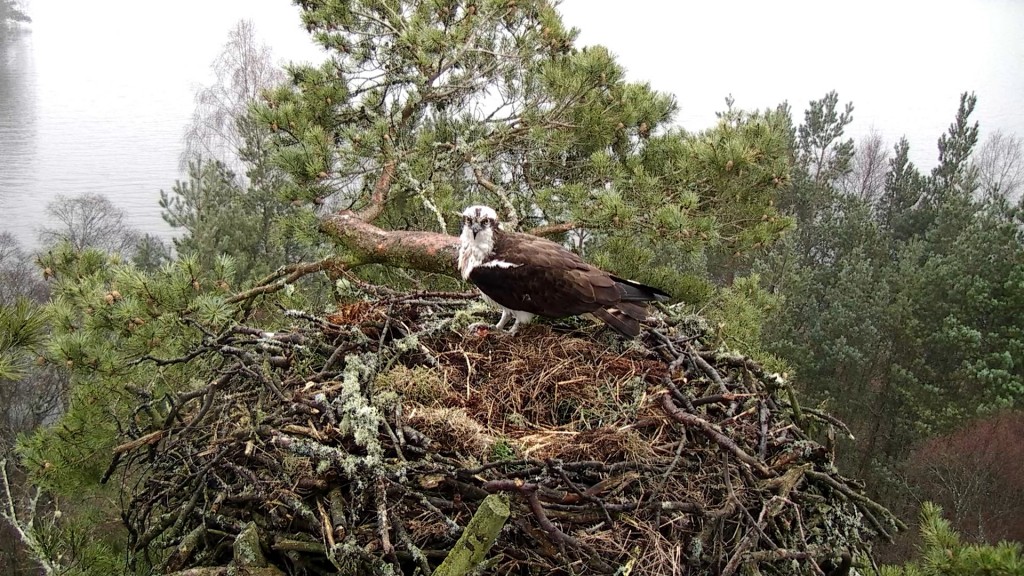 Anyone hoping for a mothers day delight today in the form of our veteran female ospreys arrival  will have sadly been disappointed. Alas there have been no new arrivals on Loch of the Lowes,  just our male bird diligently continuing to add to the new nest site on flat top tree. He came to the main nest ( on the webcam) this morning around 9.30am for quite  a while with a fish in tow, but otherwise has spent the day elsewhere.
It wasn't until 5.30pm this evening that things got interesting- the new female osprey appeared for the first time all day, and landed on the flat top tree. The male then displayed for her for over 20minutes, circling , calling and showing off his prowess. Some of you may have heard his display calls on the camera microphone- a repeated screeching, quite different from an osprey begging or alarm call.  She didn't seem overly impressed and did not join him in the air sky-dancing ( courtship flight displaying common in some raptors). however, later this evening she did accept a fish from him and as dusk fell they successfully mated again.
So their courtship continues and bodes well for the future as a potential nesting pair if we don't have our favourite resident female osprey return. We should stress that we have in no way yet written off her making it back and reclaiming her mate and nest- she has arrived more than a week later than this in past seasons and still gone on to nest successfully, so anything could still happen.
If you have any osprey questions, remember you can send them to : ospreys@swt.org.uk and the ranger will answer them here on the blog for all to share.
 
Help protect Scotland's wildlife
Our work to save Scotland's wildlife is made possible thanks to the generosity of our members and supporters.
Join today from just £3 a month to help protect the species you love.
---
Preface
Anyone hoping for a mothers day delight today in the form of our veteran female ospreys arrival  will have sadly been disappointed. Alas there have been no new arrivals on …