Sightings summary – June 2011
The big news on the reserve at Montrose Basin during June was the arrival of a spoonbill.  This heron-like bird has a wingspan of around four feet and its brilliant white plumage makes them obvious across the Basin and it was first seen on 28 June near Miss Erskine's Bank.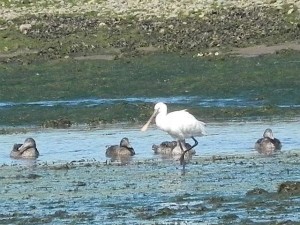 A very late (or very early!) male pintail was recorded on several occasions during June (11th, 12th, 17th and 19th), a guillemot was seen on 12th and 19th and a great crested grebe on 13th.
Wildfowl and waders
A small flock of, probably feral, greylag geese were seen near Lurgies on 2nd, the next day 150 ringed plover, 9 bar-tailed godwit and 40 dunlin were also noted.
Peak counts recorded during this month's WeBS count on 12th saw 1136 eider, 208 oystercatcher, 165 shelduck, 1 knot, 1 golden plover, 3 black-tailed godwit, 85 curlew, 66 mallard, 187 mute swan and 4 pink-footed geese.
Other wildfowl and wader sightings seen on Montrose Basin during June included a single greenshank and a pair of shoveler (16th), 25 goldeneye (19th), 4 Canada geese (21st), 6 lapwing (26th), 80 wigeon and 8 common sandpiper (28th).
In terms of sawbill ducks the peak counts for goosanders and red-breasted mergansers were 74 (15th) and 134 (25th) respectively.
Birds of prey
Birds of prey recorded on the reserve at Montrose this month included a female marsh harrier (2nd), almost daily sightings of buzzard and osprey (4 seen on 5th and 3 seen on 19th) and a male kestrel was seen hunting near Ferryden on 4th.
Passerines
A whitethroat and a reeling grasshopper warbler were recorded on Mains of Dun on 2nd. 
Sightings from in and around the Visitor Centre grounds included 12 goldfinch, 2 song thrush (both on 5th), male reed bunting (8th), great spotted woodpecker (9th), 1 house martin, 4 sedge warblers (15th), 38 woodpigeon (18th), 12 tree sparrow, 47 starlings (both 19th), a linnet and 6 great tits (26th).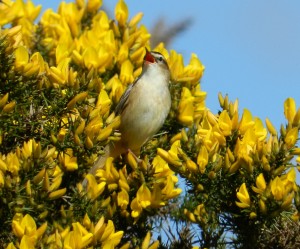 Others
Maximum counts of other regular species this month saw 41 cormorant (5th), 21 sandwich tern and 112 common tern (12th), 207 herring gull, 254 black-headed gull, 15 great black-backed gull, and 67 common gull (all 19th).
As young birds fledge the nest and their breeding season comes to an end, the number of herons on the reserve is increasing and the maximum count this month was 30, recorded on Sunday 19th.
A red-legged partridge was seen on 4th and a flock of 28 swift were feeding over Lurgies on 21st.
Mammals
Two grey seals were noted basking mid-Basin on 5th along with 16 common seals.  The peak count of common seals was 17 (22nd).
Help protect Scotland's wildlife
Our work to save Scotland's wildlife is made possible thanks to the generosity of our members and supporters.
Join today from just £3 a month to help protect the species you love.
---
Preface
The big news on the reserve at Montrose Basin during June was the arrival of a spoonbill.  This heron-like bird has a wingspan of around four feet and its brilliant …