The nature and climate crises are two of the most serious issues of our time. We must tackle these problems head on in order to achieve a truly green and transformative recovery.
In this joint report the Trust, alongside WWF Scotland and RSPB Scotland, outlines 11 high-impact interventions to restore nature in Scotland. Delivering these actions would support a more resilient economy, help achieve our ambitious climate change targets, and provide wide-ranging benefits for society, contributing to achieving the Sustainable Development Goals.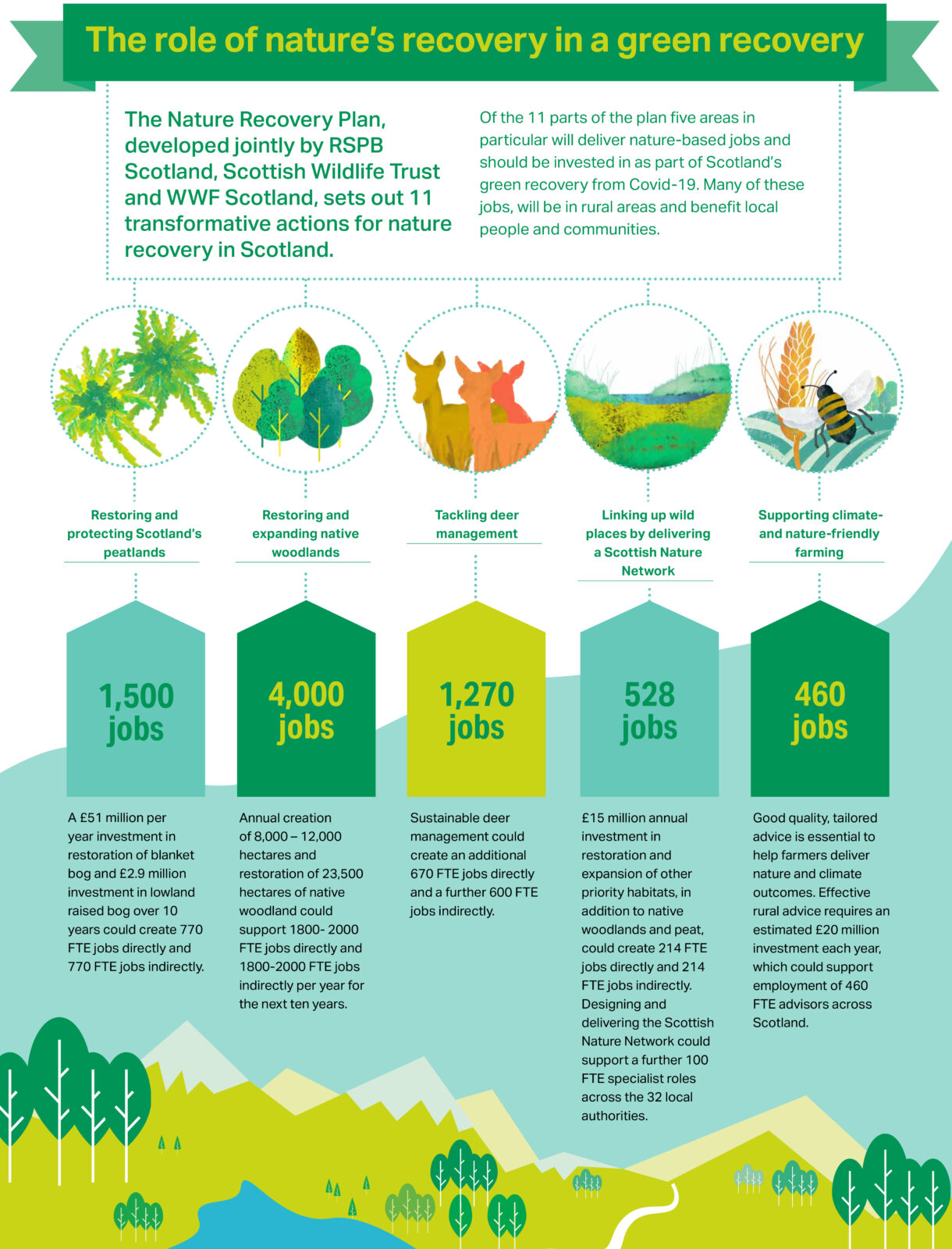 These 11 actions can support nature's recovery
Deliver a significant expansion in Scotland's native woodlands annually from 2020
Introduce new legislation to achieve sustainable, low-impact fishing by the end of 2021
Implement licensing of driven grouse shooting by end 2021
Reduce deer populations and maintain them at sustainable levels through new or improved legislation by end 2021
Ensure that all new development is net positive for nature through the National Planning Framework 4 in 2022
Include a Scottish Nature Network in the National Planning Framework 4 in 2022, and deliver it by 2030
End burning on peatland and the commercial extraction and sale of peat for horticulture across Scotland by 2023
Introduce and apply new rules to improve the use of nitrogen by 2024
Establish a Scottish Invasive Non-Native Species Inspectorate by 2025
Transition Scottish agriculture to a new system of rural support, which facilitates and rewards delivery of public goods, by 2027
Commit to at least 30% of Scotland's seas being highly protected, with at least 10% fully protected by 2030
The actions we have laid out and recommended in our report are necessary to begin to tackle the nature crisis in Scotland. A number of the actions could also be prioritised by the Scottish Government over the next six months, as part of a green recovery. Looking beyond that, the actions should be considered as a package of policies for nature that must be delivered within the next 5-10 years.
We call on all political parties in Scotland to champion nature by including our 11 actions in their manifestos for the 2021 Scottish Parliament elections.
Read A Nature Recovery Plan: 11 transformative actions for nature in Scotland (pdf)