Female osprey NC0 laid her second egg of the season yesterday afternoon at 4:05pm.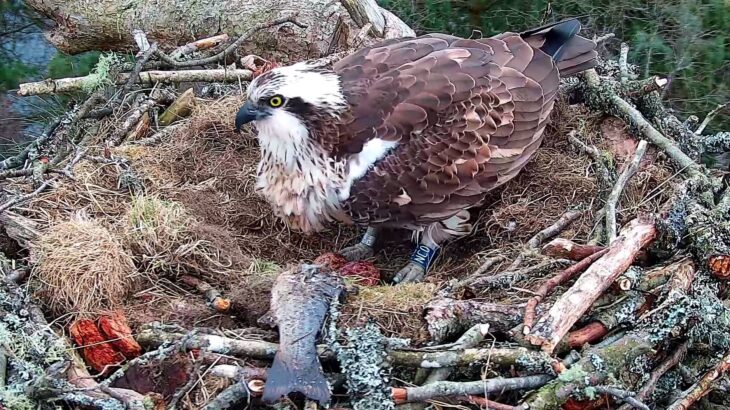 Staff and volunteers at the Scottish Wildlife Trust's Loch of the Lowes Visitor Centre and Wildlife Reserve in Perthshire are now hoping to see a full clutch of three eggs by Easter Monday.
The Trust's Perthshire Ranger Sara Rasmussen said: "It's exciting to see NC0 lay her second egg. This is the third breeding season for our resident pair and things are progressing really well. Our team is watching the nest around the clock to ensure these birds are protected from disturbance, giving them the best chance of breeding successfully."
Laura Chow, Head of Charities, People's Postcode Lottery said: "The Trust's work at Loch of the Lowes Wildlife Reserve provides a fantastic window into the lives of ospreys, and thanks to their live webcam people all over the world can discover these amazing birds of prey."
Loch of the Lowes Visitor Centre is currently open seven days a week from 10:30am to 5pm. The Scottish Wildlife Trust's live osprey webcam ensures people from around the world can follow events as they happen.
Osprey lay their eggs around 1-3 days apart. To successfully hatch these eggs will need to be incubated around the clock for 5-6 weeks.
Ospreys were extinct in Britain for much of the 20th Century. They began to recover in the 1960s and an estimated 300 pairs of ospreys now breed in the UK each summer. Most of these birds migrate to West Africa but some winter in Spain and Portugal.
The recovery of ospreys is thanks to the efforts of conservation charities including the Scottish Wildlife Trust. The Osprey Protection Programme at Loch of the Lowes Visitor Centre & Wildlife Reserve is supported by players of People's Postcode Lottery.