The Trust's Scottish Beavers partnership with the Royal Zoological Society of Scotland has won a prestigious Nature of Scotland Award. The partnership was revealed to be the joint winner of the RSPB Species Champion category on Wednesday 4 December.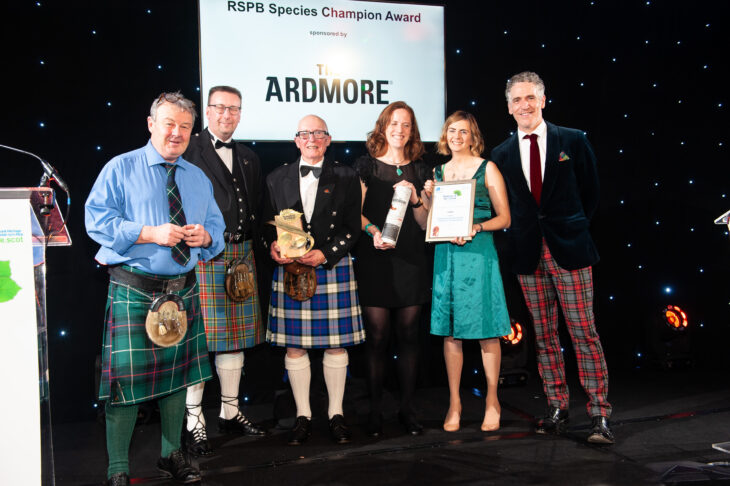 This prize was given in recognition of decades of work to champion the return of beavers to Scotland, culminating in beavers receiving protected status in May 2019.
Between 2009 and 2014 the Scottish Wildlife Trust, in partnership with the Royal Zoological Society of Scotland and Forestry and Land Scotland, carried out the Scottish Beaver Trial in Knapdale Forest, mid-Argyll.
This was one of the largest field trials of its kind in Europe and aimed to help the Scottish Government make an informed decision on the future of the species in Scotland. Now that beavers are recognised as a native species, we are working to reinforce the population in Knapdale Forest to ensure its long term future.
Beavers are one of the world's best natural engineers, with an incredible ability to create new wetlands and restore native woodland. Their ability to create new habitats means they have an important role to play in tackling the crisis facing  nature in Scotland.
Another partnership recognised in the awards was Badgers in the Landscape, a National Lottery funded partnership project led by the charity Scottish Badgers. This initiative received highly commended in the Innovation category. The Trust is a partner in this successful project, which has included creating Scotland's Badger Hub at our Falls of Clyde Visitor Centre and Wildlife Reserve.
Gordon Buchanan, Scottish Wildlife Trust Ambassador and presenter of the Nature of Scotland Awards said: "Scotland's nature has always had a special place in my heart, and it was an honour to meet people who are working tirelessly to protect our natural heritage.
"The dedication and commitment of individuals such as the ones celebrated by these awards, is invaluable to our wildlife and unique habitats. Congratulations to all the winners and keep up the good work!"