A new approach to valuing the marine environment will be piloted in Orkney by the Scottish Wildlife Trust, in collaboration with Heriot Watt University, over the next two years.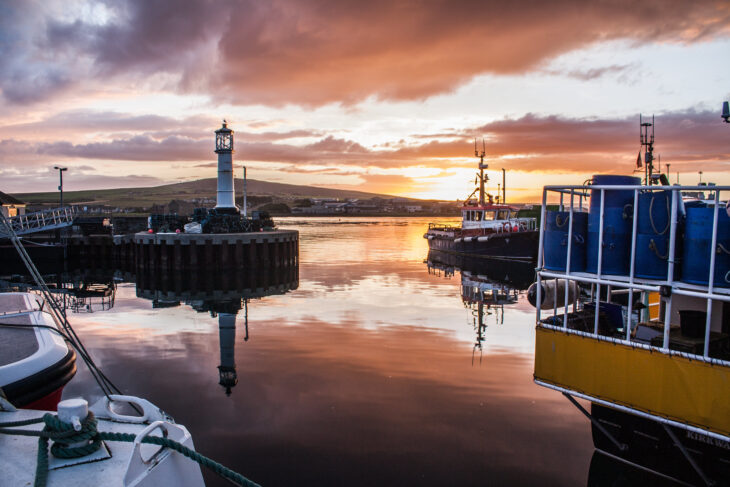 The Oceans of Value project aims to highlight the important link between a healthy marine environment and human prosperity, and investigate how combining two different ways of valuing the marine environment can collectively provide useful insights for decision makers in marine planning.
The project has received funding from the John Ellerman Foundation and the Calouste Gulbenkian Foundation (UK Branch).
The Trust is recruiting a Stakeholder Engagement Officer to carry out the Community Voice Method component of the project. Applications for this post close on 17 May 2019.
"Ultimately we want to identify opportunities for coastal communities to thrive alongside healthy living seas."

Dr Sam Collin
Our Marine Planning Manager Dr Sam Collin said: "Marine planning is increasingly recognised as an essential approach to managing the many pressures on our environment.
"To ensure management is effective, it is essential to understand and identify the different values of the marine environment. This project will provide opportunities to incorporate local knowledge, identify 'hidden values', and improve our ability to tailor marine plans to meet societal, economic and environmental needs.
"Ultimately we want to identify opportunities for coastal communities to thrive alongside healthy living seas."
The research project includes comprehensive stakeholder engagement, using the successful Community Voice method. This technique focuses on identifying key similarities and differences between the views of groups such as fishermen, salmon farmers and recreational groups including divers. It has been shown to be an effective way to address the polarisation that can often be experienced between economic and environmental values in coastal communities.
The second part of the Oceans of Value project will pursue a natural capital approach to valuing the waters within the Orkney Islands Marine Region. This approach is the first of its kind and will focus on the value of ecosystem services provided by the marine environment, such as healthy and diverse habitats, coastal protection, carbon sequestration, and wave and tidal energy.
By synthesising these two different approaches the Trust will create a comprehensive and informative assessment of the different values the Orkney Islands Marine Region provides to society. It is intended that this assessment will provide useful insights for marine planners in Orkney who are about to develop the Orkney Regional Marine Plan. The project will also create a clear set of recommendations that can be applied to future marine plans in Scotland.
James Green, Senior Policy Planner, Development and Marine Planning team at Orkney Islands Council said: ''Orkney waters are extremely valuable to our local communities as they provide many of our natural resources and support many business and jobs. Our seas and coasts are also enjoyed for their stunning natural beauty and a wide range of recreational activities.
"The Oceans of Value project provides an opportunity for local people to say what they value about the seas around Orkney, improving our understanding of how the marine environment supports the local economy and quality of life. The more we know about what's important about our marine environment and resources, the better we can manage them and make sure the community benefits for years to come.''
Nicola Pollock, Director, John Ellerman Foundation said: "The Oceans of Value project is an innovative approach to valuing the marine environment which offers a lot of promise.  We're pleased to support this work, which will build upon existing knowledge of natural capital assessments and how this can be applied to our oceans and inform marine planning and management."
Bridget Gourlay from the Calouste Gulbenkian Foundation (UK Branch) said: "This project will uncover the value of the ocean to the people of Orkney in many forms: economic, cultural, aesthetic, intrinsic. We hope this holistic approach will inform the upcoming regional plan and potentially be applied to future marine planning in Scotland and the rest of the UK."
Oceans of Value is part of the Trust's Living Seas programme, which is supported by the Esmée Fairbairn Foundation.