Both osprey chicks at the Scottish Wildlife Trust's Loch of the Lowes Visitor Centre and Wildlife Reserve near Dunkeld have now taken their maiden flights.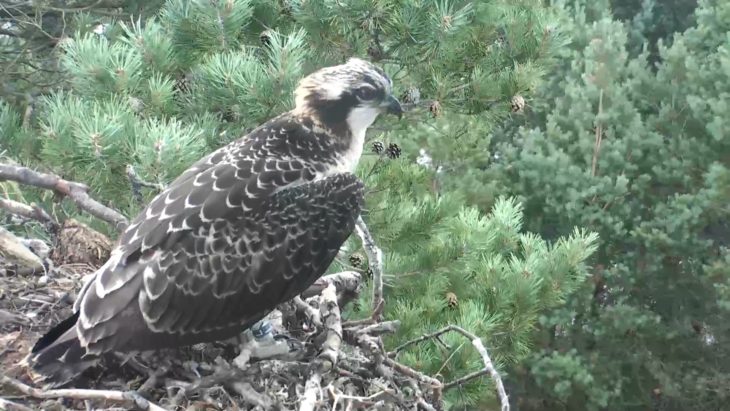 The youngest bird, LN1, took off from the nest on the afternoon of Tuesday 17 July.
His older sibling, PT0 first left the nest early on Saturday morning. Since that time he has spent a significant amount away from the nest, flying around the loch and perching in nearby trees.
Both chicks have spent the last few weeks stretching their wing muscles and briefly hovering on the nest.
Reserve Manager Rab Potter said: "Now that both chicks are in the air it is a great time to visit Loch of the Lowes to catch a glimpse of these birds as they get to grips with flying ahead of their long migration south for winter.
"It is truly satisfying to see them take to the air after thousands of long hours spent by our staff and volunteers protecting the nest from disturbance."
The chicks were both ringed by a licensed bird ringer on Monday 2 July. They were given the ring numbers PT0 and LN1 and both birds are believed to be male.
Parent birds LM12 and LF15 have been breeding together at Loch of the Lowes since 2015. They have successfully raised 10 chicks in that time.
Ospreys spend around 2-3 years in wintering grounds in Africa and Southern Europe before returning to Scotland and will live separate lives from their relatives once they leave their nest.
Loch of the Lowes Visitor Centre is open daily from 10am – 5pm with 24-hour access to the reserve hides. A live osprey webcam ensures people from around the world can follow events as they happen.
Ospreys were extinct in Britain for much of the 20th century. They began to recover in the 1960s and around 260 pairs of ospreys now breed in the UK each summer.
Our Osprey Protection Programme at Loch of the Lowes is supported by players of People's Postcode Lottery.