Female osprey LF15 has arrived in Perthshire at the Trust's Loch of the Lowes reserve near Dunkeld after a long migration.

LF15 arrived at around 7:30am on Tuesday 20 March. Staff and volunteers at the centre are now waiting to see if she will be joined by her long-term mate LM12 for a fourth season. The pair have successfully fledged eight chicks since becoming a pair in 2015.
Rachael Hunter, our Perthshire Ranger said: "LF15 isn't ringed but she is easily identified by the tell-tale 'y' of dark feathers around her face. She's only been back at the reserve for a few hours but she seems very much at home. We're now waiting to see if she will be re-joined by LM12 for another season.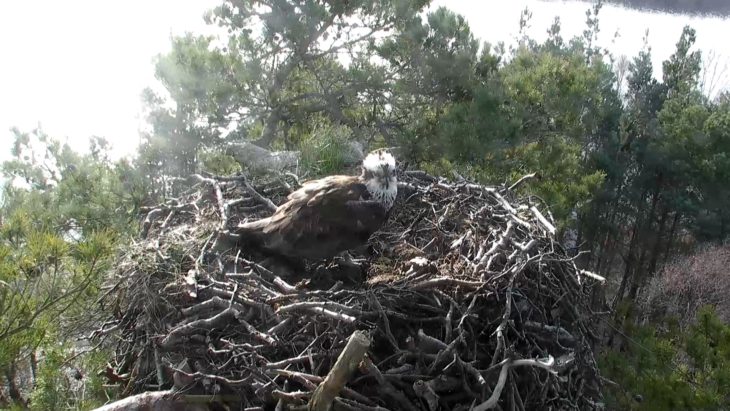 Sanjay Singh, Senior Programmes Manager, People's Postcode Lottery said: "It's great to see LF15 back on her nest and we're hopeful of another successful season for these iconic birds. Our players will be delighted that their support helps people to discover more about the lives of ospreys."
Loch of the Lowes Visitor Centre is open daily from 10am – 5pm with 24-hour access to the reserve hides. Our live osprey webcam ensures people from around the world can follow events as they happen.
Ospreys were extinct in Britain for much of the 20th century. They began to recover in the 1960s and around 260 pairs of ospreys now breed in the UK each summer.
This recovery is thanks to the efforts of conservation charities including the Trust. Our Osprey Protection Programme is supported by players of People's Postcode Lottery.